GENERAL SURGERY, A Collection Of Depravation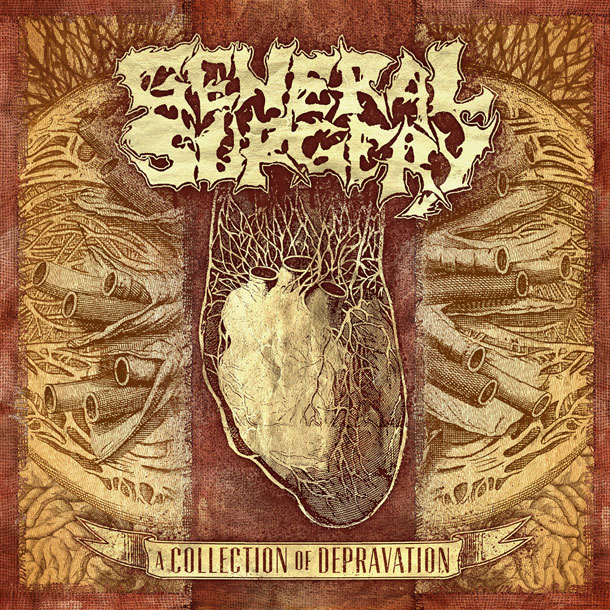 La Relapse Records, durante i suoi anni migliori, fece uscire diversi gruppi che ne resero grande il nome: sebbene non siano i primi a venire in mente, i General Surgery furono uno dei principali colpi dell'etichetta. Nel 1991, quando uscì quella gemma che è Necrology, nel goregrind ci furono dei cambiamenti. Non tutti sanno quanto questo 7" fu importante per la musica estrema: ai tempi l'Europa, tra RGTE, Xysma, Malignant Tumour, Dead Infection, Squash Bowels e via discorrendo, stava dimostrando al mondo intero come il gore non fosse un genere sterile, ma che al contrario avesse ancora molto altro da dire. In mezzo a queste band i General Surgery erano i più vicini ai Carcass, pur non essendone affatto un clone, perché imbevuti di death svedese fino al midollo. La loro proposta non era e non è delle più varie, ma hanno sfornato sempre dischi di alto livello, sia con la registrazione grezza dei '90, sia con quella "moderna" degli anni '00.
Oggi, orfani della Listenable Records, sono tornati nuovamente alla casa base, e per festeggiare esce A Collection Of Depravation. Non è il loro terzo full-length, ma il materiale contenuto in questo disco è tutt'altro che di poco conto. Finalmente vediamo assieme i loro lati di grandi split che furono quelli con i The County Medical Examiners del 2003, con i Filth del 2004 e con i Machetazo dello stesso anno. Non è finita qui: il quintetto di Stoccolma ha ben pensato di inserire altri succosi inediti e quattro cover, due delle quali, "Maggots In Your Coffin" dei Repulsion e "Empathological Necroticism" dei Carcass, tratte dai rispettivi tributi a queste due band (il secondo, Requiems Of Revulsions, è un must per tutti gli amanti di Jeff Walker e soci). Era lecito non aspettarsi il loro lato del recente split con i Butcher ABC, ma – dato che si tratta di roba ormai rara ed introvabile – non avrebbe guastato vedere anche Necrology su quest'uscita. Raccogliere i pezzi qui presenti in un unico cd, insomma, era più che doveroso: A Collection Of Depravation può far felice sia chi conosce poco il gruppo e vuole approfondirlo, sia i vecchi fan "terminali". Attenzione, però: è stato più volte recensito come un semplice disco d'inediti, nonostante molte di queste tracce siano presenti sul debutto Left Hand Pathology del 2006. In ogni caso, un gustosissimo prodotto che vale i soldi che spenderete (sempre che decidiate di comprarlo) dal vostro negoziante di fiducia.
Tracklist
01. Pre-Bisectal Corrosive Immersion
02. Lab Rat
03. Mortuary Wars
04. Cauterization Frenzy
05. Reception Of Cadavers
06. Decomposer
07. Convivial Corpse Disposal Methodology
08. Foetal Mush (Xysma cover)
09. Unruly Dissection Marathon
10. Scalpel Infestation
11. Fully-Mechanized Corpse Thresher
12. The League Of Extraordinary Grave Robbers
13. Necrodecontamination
14. Forensic Farce
15. Viva! Blunt Force Trauma
16. Cold Storage Fever
17. Fulguration
18. Autopsy Induced Amnesia
19. The Day Man Lost (Carnage cover)
20. Deadhouse
21. Decedent Scarification Aesthetics
22. Idle Teratoma Core
23. Restrained Remains
24. Maggots In Your Coffin (Repulsion cover)
25. Carbonic Residue Conversion
26. Nephroblastoma
27. Excessive Corpus Delicti
28. Pre-Bisectal Corrosive Immersion (2008 version)
29. Lab Rat (2008 version)
30. Empathological Necroticism (Carcass cover)