THE STARGAZER'S ASSISTANT, Remoteness Of Light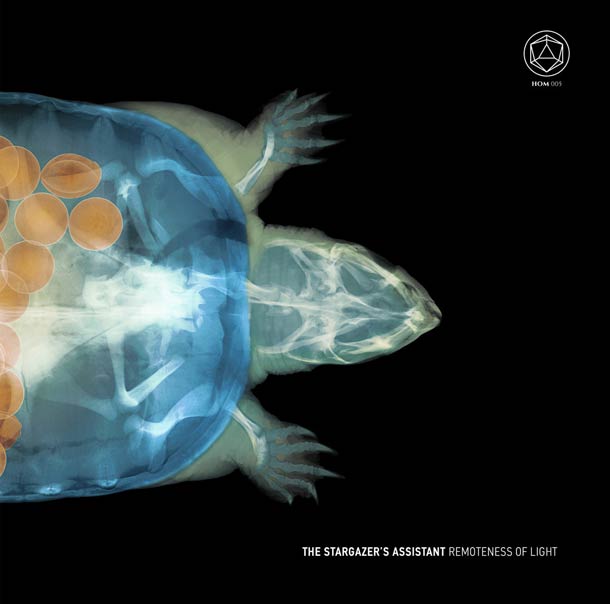 Abbiamo sul giradischi un progetto del percussionista David J. Smith dei Guapo, che in questo Remoteness Of Light segue anche la parte elettronica e ha coinvolto il chitarrista David J. Knight e Michael J. York, qui ai fiati (cornamusa compresa) e agli effetti e in passato componente della formazione live di Coil e (sempre con Smith) Cyclobe. Sarebbe molto suggestivo che fosse davvero un incontro tra Guapo e certi Coil, ma non mi pare proprio onesto affermarlo, quel che è certo è che "l'assistente" è libero, eclettico e coraggioso come e quanto i suoi parenti famosi.
Questi signori inglesi imbastiscono tre pezzi – sostanzialmente strumentali – lunghi e allucinogeni, che hanno un che di primordiale e magico e sono basati su di uno stile percussivo tribale/ritualistico, melodie orientaleggianti, reiterazioni ossessive. Sono cosciente delle potenzialità quasi "drone" della cornamusa, mai però avrei pensato – con buona pace di Jonathan Davis – che un disco che ne ospitasse il suono mi avrebbe intrippato così tanto, eppure "Agents Of Altitude" e "World Of Amphibia" fanno proprio questo, trascinandoti alla deriva, lontano da ogni appiglio razionale. Molto più pacata la title-track, almeno inizialmente: sembra di ascoltare i Popol Vuh, ma poi il gruppo dà vita a una sorta di motorik, quindi nel kraut si rimane, ma questa volta in quello dei Neu!, sempre riletti in chiave etno/psych.
Questo è un lavoro che ti assorbe e ti impedisce di fare altro: anche se si tratta di una pellicola che non c'entra niente, Remoteness Of Light costringe a mettere la testa dentro lo stereo come James Woods fa con la tv in Videodrome.