Night Shift, puntata 226 (Alieni)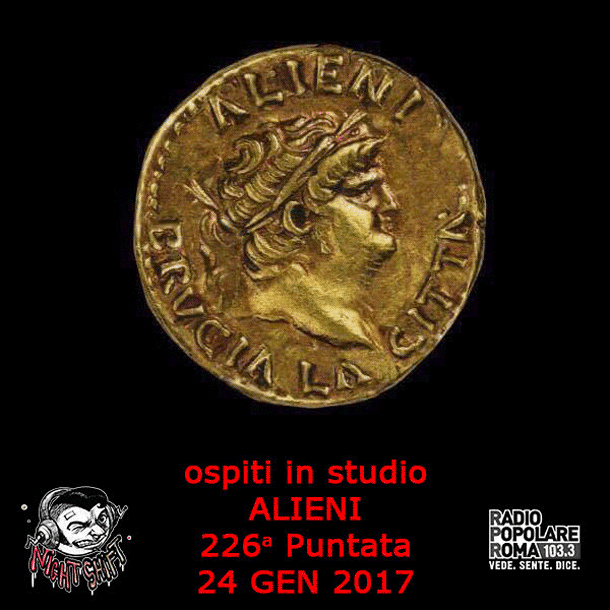 Dopo una pausa di alcuni anni gli ALIENI tornano nel 2015 con il 7″ Toy Boy per la Rave Up Records, ricevendo ottime recensioni dalle riviste del settore. Freschissima è l'uscita del loro primo lp Brucia La Città per la White Zoo Records: ce ne hanno parlato durante questa puntata.
Playlist
01. Redemption Song – Joe Strummer & The Mescaleros
02. Toy Boy – Alieni
03. Highway Star – Deep Purple
04. Ace Of Spades – Motörhead
05. Roma – Alieni
06. Looking for a Kiss – New York Dolls
07. Raw Power – Iggy and The Stooges
08. Brucia La Città – Alieni
09. Can I Run – L7
10. Me And Bobby Mcgee – Janis Joplin
11. Piaga Sociale – Alieni
12. Bite You Good Nite – Sunglasses After Dark
13. Nella Città dei Morti – Bone Machine
14. Inferno – Alieni
15. Niente Paura – Dalton
16. Brutti Demoni da Gestire – Rione Vyborg
17. Anthem – Cock Sparrer
Night Shift
In onda ogni martedì a partire dalle 22:00 sui 103.3 FM di Radio Popolare Roma e in streaming su
radiopopolareroma.it
.
Contenitore musicale notturno che punta alla messa in circolo delle sonorità meno diffuse nell'etere romano. Grande attenzione è rivolta alle band underground nostrane, che vengono invitate a raccontarsi proponendo la loro musica e quella delle loro origini.