VENTA PROTESIX & MARIO GABOLA, Cosmetic Surgery For Lonely Girls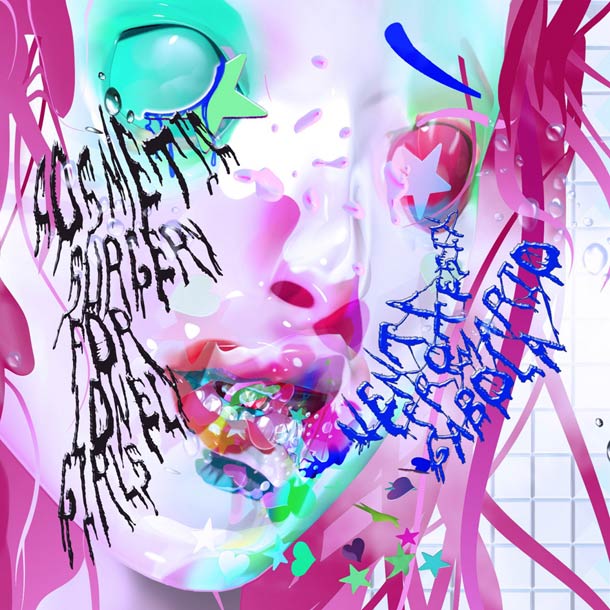 Nella cartella stampa i due dichiarano senza mezzi termini: all the materials of this album are taken by live impro sessions that we played alienated together. Si può dire che il risultato è l'esatta descrizione di quello che vogliono farci credere, d'altronde se fai un disco di quaranta minuti scarsi di "rumori" – e credi di poterceli vendere come qualcosa di appetibile – un po' alienato devi esserlo per forza. Già tempo fa avemmo modo di leggere le parole di Italo Belladonna, vero nome di Venta Protesix, che assommate al discorso sonoro del veterano Mario Gabola (non vi siete persi lo speciale su Napoli, vero?) rendono ancora più chiara, anzi fosca… questa liaison che prima o poi s'aveva da fare.
Cosmetic Surgery For Lonely Girls è di fatto un campionario assortito di elettronica sporca e senza freni inibitori, sul limitare della game-music (la title-track) e che si trasforma di continuo: la trance-core ebete di "Barbie Dentist Game", il noise-rock come potrebbero pensarlo i Chrome messi a marcire di proposito in una discarica di plastica e ferraglia ("Orsetti Gommosi Ipovedenti"), per non dire della brevissima pantomima harsh di "Chemical Lipstick Gloss". Avrete notato la fantasia nei titoli, potrete divertirvi (e disgustarvi) nello scorrere i vari "Grumi Di Sangue Sull'Assorbente", "Il Gruppo Con La Sindrome Premestruale", "I Nuovi Erika & Omar" e via elencando. Ma è il contenuto stesso a tracciare un solco che vi permetterà, nonostante tutto, di trovare "attraenti" queste incredibili marcette al limite dell'inascoltabile, vi basti come esempio l'assurda e folle corsa contro un muro di "Cani E Padroni", qui davvero vi sembrerà di vedervi spiaccicati su una parete. Insomma se avrete il fegato di ascoltarvelo tutto fino alla mazzata conclusiva de "L'Anti-Musicista Più Brava, Geniale e Carina Di Tutte", allora potrete davvero dire di aver superato una prova, alienante ovvio.
Il disco è in uscita (l'edizione è limitata e in formato cd) per la Viande Records dello stesso Mario Gabola.