DAY BEFORE US / NIMH, Under Mournful Horizons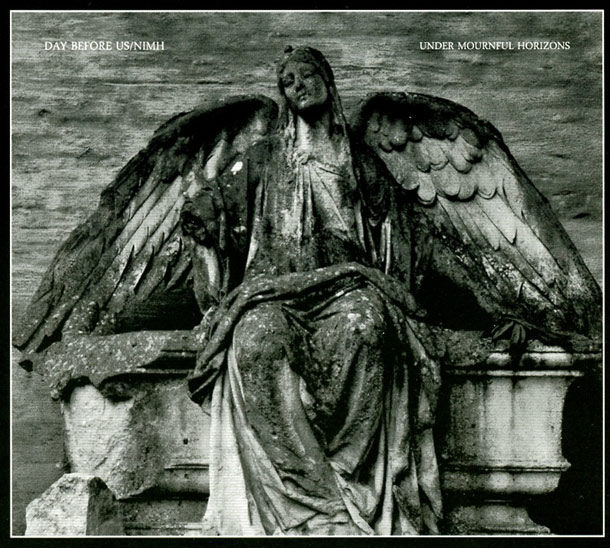 Dopo lo speciale su Hall Of Mirrors non ha senso dilungarsi troppo su Giuseppe Verticchio/Nimh, che qualunque italiano col pallino per queste sonorità ha sentito almeno nominare. Day Before Us, invece, è Philippe Blache qui a piano, organo e chitarra, autore in passato di un libro che parlava della scena industrial e post-industrial italiana, Maurizio Bianchi su tutti (ma anche Andrea Marutti, Matteo Uggeri e Verticchio stesso). Under Mournful Horizons, per terminare i convenevoli, esce per Rage In Eden, etichetta polacca che evidentemente si deve esser resa conto  di occuparsi di un genere underground nel quale gli italiani (contro ogni luogo comune possibile) sembrano eccellere, dato che – prima di Giuseppe – poco tempo fa ha pubblicato pure Davide Del Col nelle vesti di Antikatechon.
Non si giudica un libro dalla copertina, per cui quella statua bellissima non deve far credere a nessuno che questo sia un doppione di Raison D'Être, anche se le inquietudini spirituali sembrano essere simili, se non le stesse. Qui Nimh accantona la ricerca sui suoni etnici e mostra il suo lato più noise, ma combinandolo (temperandolo) con il lavoro di Blache. Si tratta dunque di un disco molto malinconico: il continuo campionare la pioggia, per quanto un po' didascalico ne è la prova principale assieme al modo di suonare il piano di Philippe, che – per dare un'idea – potrebbe essere messo vicino a quello degli Ulver di Perdition City, Silencing The Singing e Silence Teaches You How To Sing, coi quali il disco condivide anche il mood generale. Molto azzeccato pure l'intervento della chitarra acustica, in un album che – nel suo fondere melodia e rumore – potrebbe persino essere di moda in questo momento, ma è solo un caso.
Il pezzo forte di quest'anno per Nimh è Altered Nights, mentre questa è "semplicemente" una buona uscita, l'ennesima collaborazione che gli garantisce la solita vitalità.
Tracklist
01. An Uncertain Dawn
02. Surrounded By A Moonless Night
03. In The Court Of A Sorrowful season
04. Under Mournful Horizons
05. Frozen Gleams Of Eternity