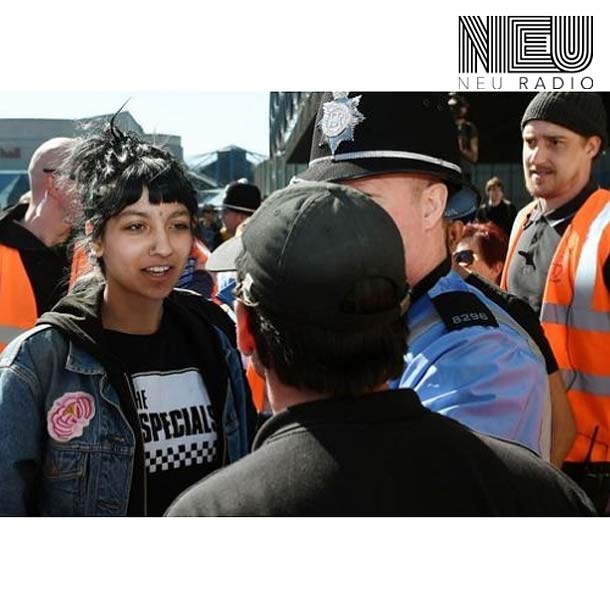 Area Contaminata #10 ospita i grandi ritorni di Specials e Cosey Fanni Tutti, oltre alla consueta varietà di novità e ristampe tra dub, post-punk, industrial e synth-wave.
Playlist
The Specials – "Vote For Me" (UMC)
The Specials – "10 Commandments" (UMC)
Bunny Lee – "Dubbing In The Front Yard" (Pressure)
Jay Glass Dubs – "The Evil Empire" (Bokeh Versions)
Mark Stewart + Maffia – "Liberty Dub" (Mute)
G36 – "Black Mass" (Hotline)
Throw Down Bones – "We Are Drugs" (Fuzz Club)
Cosey Fanni Tutti – "Tutti" (Conspiracy International)
Nash The Slash – "Womble" (Cherry Red)
Mutant Beat Dance – "Geometrical Disease (feat. Black Meteoric Star)" (Rush Hour)
LCD Soundsystem – "Seconds" (DFA)
Sad Lovers & Giants – "Biblical Crows" (Voight-Kampff)
Area Contaminata
Area Contaminata è una trasmissione in onda su Neu Radio, dedicata alle nuove uscite e alle ristampe in ambito di musica elettronica, post-punk, techno, dub, industrial, ambient, psichedelia…
Area Contaminata è alla continua ricerca di nuovi suoni, senza dimenticare il passato, con l'intenzione di abbattere il concetto di confine tra i diversi generi musicali.
Area Contaminata è un programma non adatto ai puristi abituati a categorie prestabilite.
Area Contaminata è condotta da Alberto Simoni, dj radiofonico dal 1990, prima di Radio Città 103 (poi diventata Radio Città Fujiko), successivamente, dal 2010 al 2017, di Radio Città del Capo e dal 2018 di
Neu Radio
.