Il 23 e il 24 settembre a Bologna c'è il September To Dismember Vol. X
Riceviamo e pubblichiamo.
SEPTEMBER TO DISMEMBER VOL. X LAST EDITION
Underground d.i.y. Cine-music festival
VENERDI 23 SETTEMBRE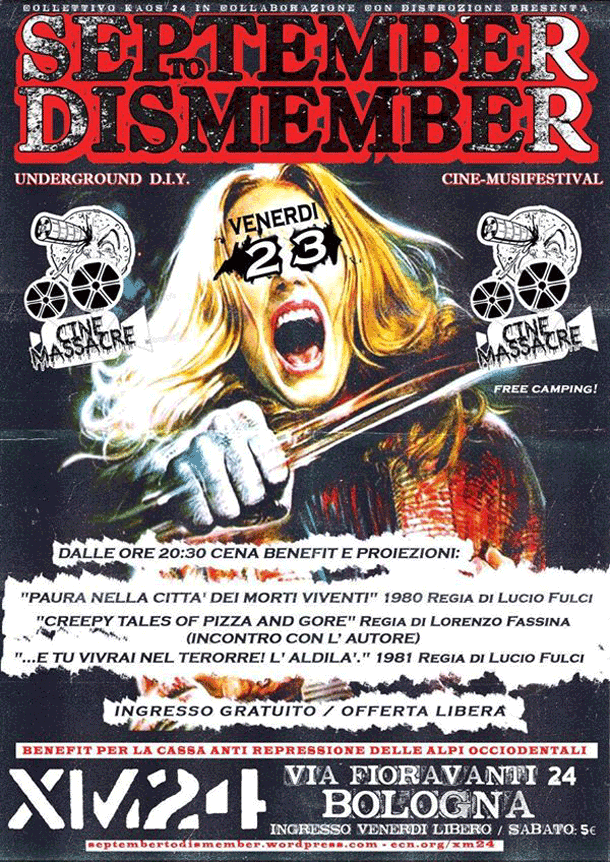 VENERDI 23 SETTEMBRE
PROIEZIONI GRATUITE // CENA BENEFIT
L'edizione del Cinemassacre di quest'anno sarà dedicata al ventennale della scomparsa del "terrorista dei generi", il maestro Lucio Fulci.
Daremo spazio anche al cinema horror/splatter indipendente con l'ultimo lavoro del regista milanese Lorenzo Fassina. Abbiamo selezionato questa pellicola in particolare per la colonna sonora composta da band underground locali, tra cui gli Overcharge, che si esibiranno il giorno seguente sul palco dell' XM24. Un link ideale tra le due giornate del festival.
SCALETTA PROIEZIONI E CENA:
DALLE ORE 20:30
"PAURA NELLA CITTA' DEI MORTI VIVENTI"
Anno: 1980 – Regia di Lucio Fulci
"CREEPY TALES OF PIZZA AND GORE"
Regia di Lorenzo Fassina
"L' ALDILÀ… E TU VIVRAI NEL TERORRE"
Anno: 1981 – Regia di Lucio Fulci
CAMPEGGIO LIBERO / FREE CAMPING
SABATO 24 SETTEMBRE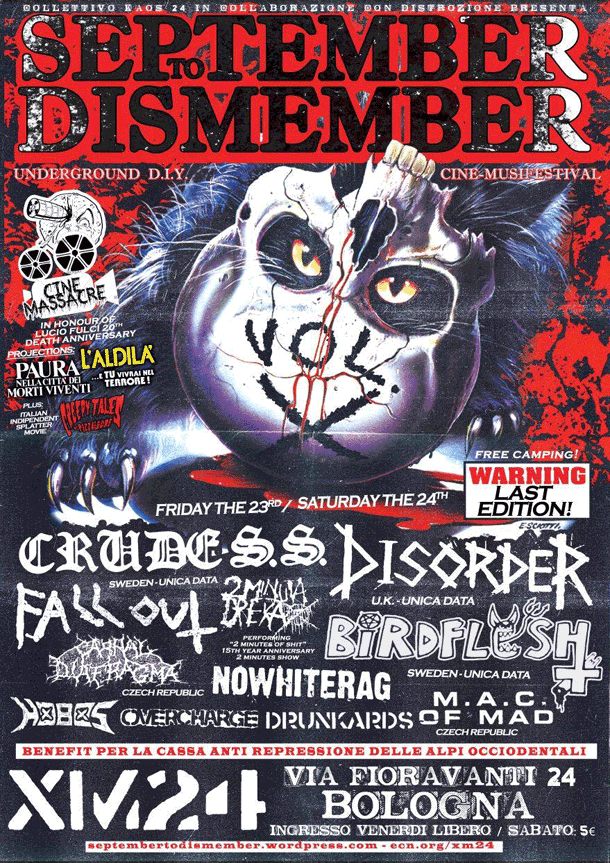 11 BANDS INGRESSO 5€ // CENA BENEFIT
CRUDE SS (Svezia – unica data)
BIRDFLESH (Svezia – unica data)
FALL OUT (La Spezia)
MEINHOF (U.K. – unica data)
2 MINUTA DREKA (15th yrs anniversary special show)
CARNAL DIAFRAGMA (Repubblica Ceca)
M.A.C. OF MAD (Repubblica Ceca)
RUNNING ORDER
18:00 HOBOS
18:45 DRUNKARDS
19:30 CARNAL DIAFRAGMA
20:15 FALL OUT
21:00 2 MINUTA DREKA
21:15 DISORDER
22:15 BIRDFLESH
23:15 CRUDE SS
00:15 NO WHITE RAG
01:00 M.A.C. OF MAD
01:45 OVERCHARGE
L' intero incasso del festival sarà devoluto in:
BENEFIT PER LA CASSA ANTI REPRESSIONE DELLE ALPI OCCIDENTALI
Qui puoi leggere il testo per intero.
@ XM24, Via Fioravanti 24, Bologna, Italy
Video teaser realizzato da Susy Rec.
September to Dismember Vol. X Teaser from Susy Rec. on Vimeo.