WORDS AND ACTIONS / RED SECTOR A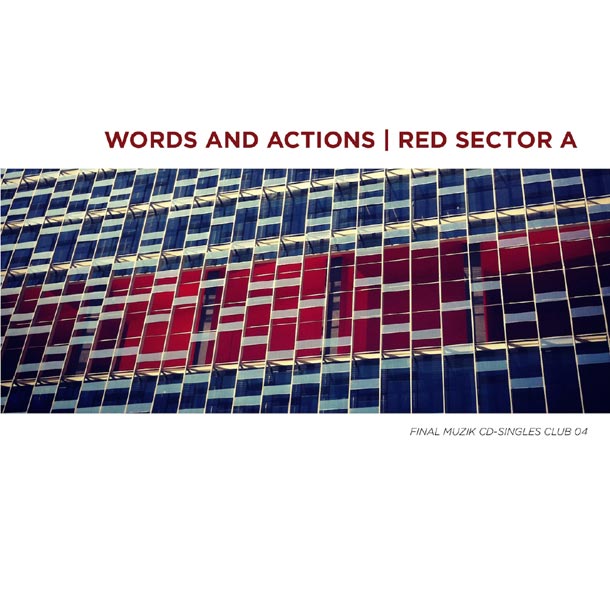 Sarò ignorante io, ma quella di questo quarto episodio della serie di split targati Final Muzik sembra una strana coppia. Words And Actions si presenta da solo col titolo del primo dei suoi tre pezzi, "Cold Rave" (o cold wave? O Cold Cave?), un brano electrodark che pare aver rubato una vecchia melodia del Robert Smith altezza Pornography. Autenticamente godibile e adattissimo a questi tempi nostalgici e a etichette come Sacred Bones o la nostra Avant! Records.
Dopo Words And Actions tocca a Red Sector A, che è sì ritmico, ma che qui quasi quasi guarda agli Autechre. Dietro la sigla in questione c'è un veterano: Andrea Bellucci. Di suo, intendo di dischi sui quali lui ha messo le mani che ho concretamente a casa mia, credo di avere solo Ad Nauseam dei Monumentum, tanto per dare un'idea dell'eclettismo della persona. Meglio "Microset" di "Ram Zee", se posso permettermi, ma è roba sempre ben tagliente e oscura.
Il denominatore comune, dunque, in qualche modo esiste, ma il salto di epoche è palese. In buona sostanza si tratta di un doppio buonissimo appetizer per chi non conoscesse nessuno dei due. Vorrei quasi scrivere happy hour, ma qui di happiness non ce n'è.
Tracklist
01. Words And Actions – Cold Rave
02. Words And Actions – Sects
03. Words And Actions – Unexplained Couplet
04. Red Sector A – Microset
05. Red Sector A – Ram Zee