THE EX, At The Bimhuis (1991-2015)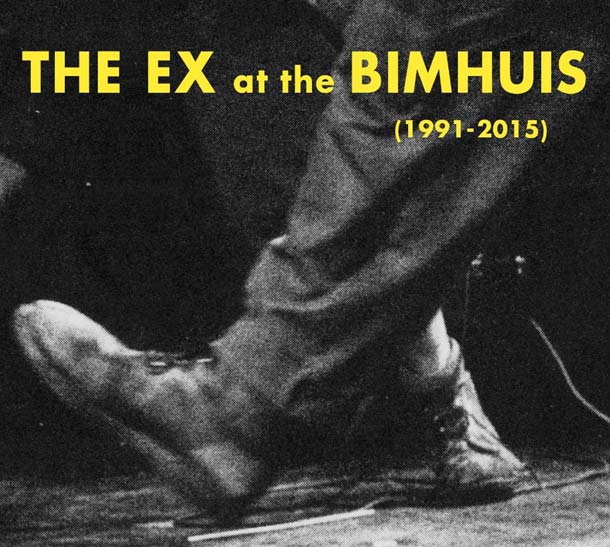 Staying a bird, staying independent, "free" if you will, for three decades, that takes skill and something else, something more like heart.
John Corbett
Il "Bim", come lo chiamano gli olandesi che lo frequentano abitualmente, è un jazz club fuori dal comune, dove puoi sentire Branford Marsalis e subito dopo un solo di Peter Evans.
Per molti è la casa dell'impro europea ma, contemporaneamente, con la sua attività frenetica di concerti dal vivo, ha contribuito a far sì che l'impro non rimanesse un composto statico, ma che si mescolasse con il punk, la world music e le performance, dando vita a miscele incendiarie. La tradizione della musica improvvisata olandese ha fatto il resto, immettendo quell'elemento "giocoso" da Homo Ludens, tipico dei musicisti di quelle parti. Non è un caso che il mitico batterista Han Bennink, uno che alterna soli ellingtoniani a concerti suonati con le scarpe o sulle forme di formaggio, sia un collaboratore abituale – nonché un grande amico – di Andy Moor e compagni.
La compagine anarco-punk di Amsterdam ha suonato al Bimhuis dodici volte, dal giugno del 1991 al maggio del 2015, e otto di queste esibizioni sono finite nel doppio cd che sto ascoltando di sottofondo mentre scrivo. Della band abbiamo detto già tutto, non serve aggiungere altro. Si chiamano così perché il nome veniva bene scritto sui muri con lo spray, hanno portato il punk dalle case occupate ai jazz club senza perdere un briciolo di carica contestataria, si interessano di musica etiope e free jazz, ambiti nei quali bazzicano anche da solisti. Persone, ancor prima che musicisti, interessate al valore assoluto del dialogo tra le parti. Gente ghiotta di scambi.
Dei due cd il primo è più beefheartiano, tanto per rendere l'idea. Ritmi quadrati, declamazioni incazzate e schitarrate rozze e sporche come catarro. Il pezzo finale "Oh Puckerlips Now" vede i tromboni di Ab Baars e Wolter Wierbos contendersi la direzione del feedback generato dai rispettivi microfoni, momento fortuito sul quale tutta la band va a costruire il proprio groove, mettendo in pratica il verbo dell'improvvisazione dentro strutture "rock". Il pubblico applaude a scena aperta.
Sul secondo cd ci sono le esibizioni più recenti e gli ospiti di lusso. Gétatchèw Mekuria, il cantante Arnold De Boer, la Brass Unbound in via di formazione (occhio ai nomi: Ken Vandermark, Ab Baars, Wolter Wierbos, Mats Gustafsson, Peter Evans). Si prosegue nell'ascolto come precipitando tra i flutti di un fiume in piena, percorsi da un fremito vitale. Una voglia insana, ma molto umana, di urlare contro la "macchina del potere", in tutte le lingue del mondo.
Questa musica contiene rabbia e un potente innesco di gioia pura, catturata prelevandola direttamente dalle gocce di sudore dei musicisti nel corso di quasi quindici anni. Forse sarò ripetitivo, ma è bene insistere. Proprio come hanno sempre fatto gli Ex.
Tracklist
CD1
01. Flutes Tale (The Ex & Guests, 29-06-1991)
02. Shopping Street (The Ex & Guests, 29-06-1991)
03. Pretty Cattle Office (The Ex & Guests, 29-06-1991)
04. Lied Der Steinklopfer (The Ex & Guests, 29-06-1991)
05. Invitation To Dance (The Ex & Guests, October Meeting, 23-10 -1991)
06. Kimmel (The Ex & Guests, October Meeting, 23-10 -1991)
07. Sonic Broom (The Ex & Guests, October Meeting, 23-10 -1991)
08. The Early Bird's Worm (The Ex & Guests, October Meeting, 23-10 -1991)
09. Ex Guitars 'n' Han (October Meeting, 23-10 -1991)
10. Kat 'n' Han (October Meeting, 23-10 -1991)
11. Dear House (The Ex & Guests, Han Buhrs Podiumprijs, 11-12 -1993)
12. New Clear Daza (The Ex & Guests, Han Buhrs Podiumprijs, 11-12 -1993)
13. Oh Puckerlips Now (The Ex & Guests, Han Buhrs Podiumprijs, 11-12 -1993)
CD2
01. Symphony For Machines (Ex Orkest, 27-04-2002)
02. Gronings Liedje (Ex Orkest, 27-04-2002)
03. Suction Prints (Ex Orkest, 27-04-2002)
04. Lale Guma (Ex Orkest, 27-04-2002)
05. Shellelle (Getatchew Mekuria & The Ex & Friends, 06-07-2012)
06. Abbay Abbay (Getatchew Mekuria & The Ex & Friends, 06-07-2012)
07. Aha Gedawo (Getatchew Mekuria & The Ex & Friends, 06-07-2012)
08. Bourgeois Blues (Zea 'n' Xavier 'n' Han, New Years Eve Party, 31-12-2010)
09. 24 Problems (The Ex & Brass Unbound, 33 1/3 Festival, 21-12-2012)
10. Every Sixth Is Cracked The Ex, Jeugdvoorstelling, 17-05-2015)
11. Gondar (Bonus Track) (The Ex & Fendika & Guests & Friends & Brass Unbound, 33 1/3 Festival, 22-12-2012)