Il 21 aprile ci sarà il Sonar Fest a Recanati, con Barbacans, Jesus Franco & The Drogas…
Riceviamo e pubblichiamo. Evento su Facebook qui.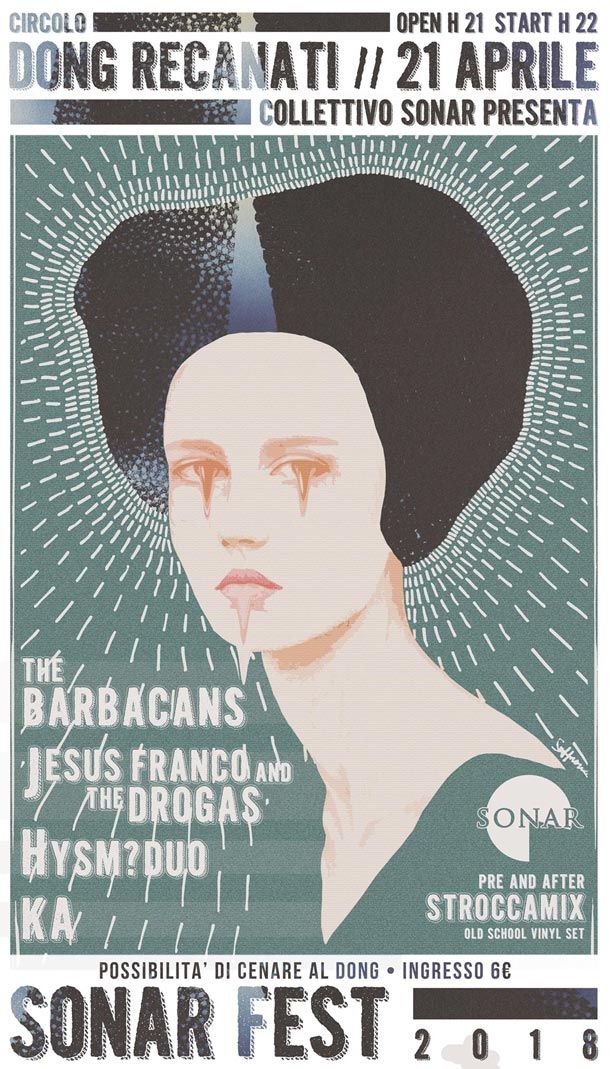 Dopo un anno di assenza dal Circolo Dong (l'ultima edizione era targata 2016) ritorna il 21 aprile in grande stile l'edizione 2018 del festival targato Collettivo Sonar, che quest'anno viaggerà tra garage, rock'n'roll e psichedelia… il tutto accompagnato dall'inconfondibile dj-set al vinile firmato Stroccamix!
L'apertura è fissata alle 21, con possibilità di cenare. Dalle 22, puntuali, si parte con due formazioni tra lo sperimentale e la psichedelica, Ka e HysM?Duo, dopodiché si prosegue tra danze ritualistiche garage e aromi di peyote coi Jesus Franco & The Drogas e i Barbacans!
Line up:
The Barbacans (garage-rock & psych)
Jesus Franco & The Drogas (garage-punk & peyote)
HysM?Duo (avant-rock & free-psych)
Ka (experimental psych-duo)
Sabato 21 aprile, Circolo Dong
Contrada Saletta, Montefiore di Recanati
Apertura ore 21.00
Concerti ore 22.00
Ingresso 6 Euro
Possibilità di cenare
Per info e contatti: polti88@gmail.com