RAFAEL ANTON IRISARRI, The Shameless Years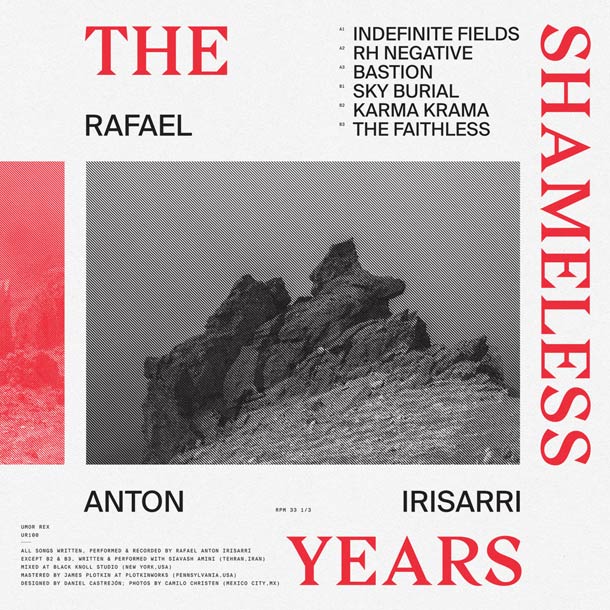 Le ultime due tracce di The Shameless Years sono realizzate a distanza in collaborazione con un iraniano (Siavash Amini) e il disco esce per un'etichetta messicana (Umor Rex, con artwork al solito eccellente). Ci sono tanti modi di essere politici e forse questo è uno dei casi più eclatanti in cui una musica non accompagnata da un testo è una risposta chiara a qualcuno, nel caso specifico – come lasciato intendere da Irisarri stesso – a Donald Trump sul discorso confini.
The Shameless Years prosegue per molti versi A Fragile Geography: rimettersi in gioco con strumenti e software diversi, sfruttare il nuovo studio, essere emotivi senza paura di diventare stucchevoli o retorici. Tornano drone profondi, distese di synth sgranate sovrapposte l'una sull'altra, in dei crescendo d'intensità che difficilmente lasciano freddi, anche perché Rafael ha sempre avuto un grandissimo senso della melodia (sentite "Sky Burial"). A questo punto le tracce con Siavash Amini, molto più tristi e cupe, appaiono quasi come l'assenza del lieto fine. Lo hanno scritto in molti più volte, ma questa specie di ambient-shoegaze proposto da Irisarri e altri è ambivalente, nel senso che è malinconico, ma non è disperato o negativo, piuttosto indefinito, "sospeso", ed è lì la sua forza. La presenza del sound artist iraniano equivale quasi a una dissolvenza in nero del disco, il che sembra significare che all'indignazione e alla sofferenza per lo stato delle cose attuale segua solo la sconfitta.