Night Shift – Puntata 181
Night Shift viene qui a rubarci il lavoro e si occupa di una band Subsound Records.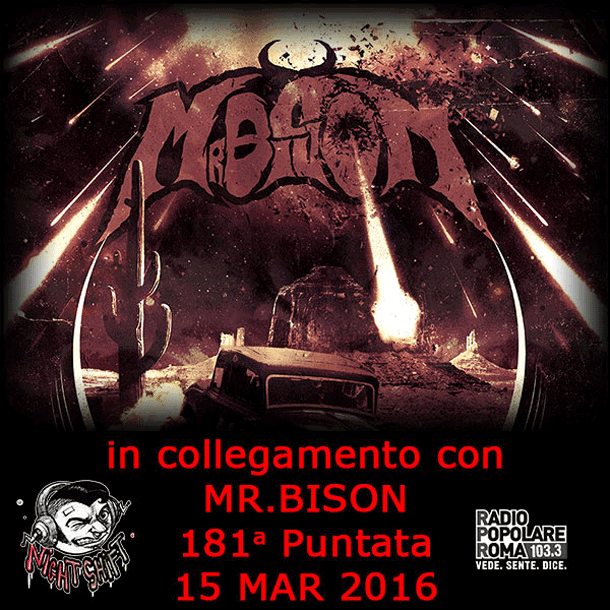 Questa settimana in collegamento con i Mr Bison, che ci raccontano la loro musica in occasione dell'uscita su Subsound Records del loro ultimo album dal titolo "Asteroid".
Mr Bison, è un power trio al fulmicotone, un terzetto atipico: propone uno stoner rock granitico di matrice californiana strutturato con un susseguirsi di riff potenti e precisi accompagnati da un cantato ficcante ed un drumming pazzesco.
Lo streaming della puntata sul Mixcloud di Night Shift.
Playlist
01. This Is Radio Clash – The Clash
02. Black Crow – Mr Bison
03. Living Loving Maid (She's Just A Woman) – Led Zeppelin
04. Mesmerization Eclipse – Captain Beyond
05. Wisker Jack – Mr Bison
06. California Crossing – Fu Manchu
07. Burning Beard – Clutch
08. Full Moon – Mr Bison
09. Killing In The Name – Rage Against The Machine
10. Play The Blues – Danko Jones
11. Burn The Road – Mr Bison
12. Star Damage (For Beginners) – Earthtone9
13. Lazaretto – Jack White
14. Hangover – Mr Bison
15. Squash That Fly – Fu Manchu
16. 13th Floor – Mondo Generator
Night Shift
In onda ogni martedì a partire dalle 22:30 sui 103.3 FM di Radio Popolare Roma e in streaming su
radiopopolareroma.it
.
Contenitore musicale notturno che punta alla messa in circolo delle sonorità meno diffuse nell'etere romano. Grande attenzione è rivolta alle band underground nostrane, che vengono invitate a raccontarsi proponendo la loro musica e quella delle loro origini.