HEAVEN IN HER ARMS / COHOL, Split 12″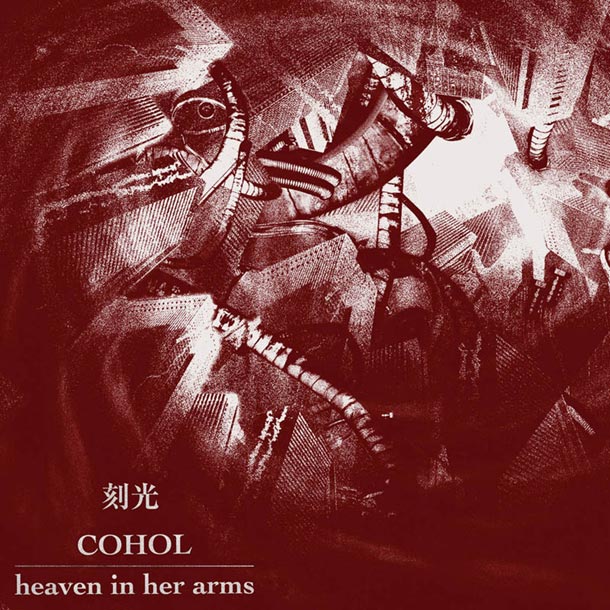 Questo breve ma intenso split album ci offre mezz'ora di buona musica con un ampio ventaglio di sonorità. La ristampa su formato 12" di un ep edito precedentemente da Daymare Recordings ci delizia con due band giapponesi giovani e davvero in gamba. Gli Heaven In Her Arms (postcore/screamo) hanno già all'attivo svariate uscite, tra le quali un disco per Denovali, intitolato Paraselene. Si parte dal crescendo e dalle sfumature eteree della prima traccia e sia arriva al finale di "Glare Of The End", che rende l'atmosfera sempre più tesa fino a sfociare in un irrequieto dialogo tra chitarre e batteria. I tre brani – legati da un filo conduttore – ci catapultano in un paesaggio tinto completamente di nero.
Se non fosse per la voce al vetriolo di Hiromasa Saitou, l'incipit di "March On The Drough" sarebbe un anonimo pezzo modern thrash, ma i secondi passano e il brano si trasforma in un veloce black metal che ricorda i Sektemtum. Neanche a farlo apposta, quest'anno il trio nipponico ha firmato per una futura release su Osmose, stessa label della band autrice dell'acclamato Aut Caesar, Aut Nihil. Con il passare del tempo la proposta dei Cohol è diventata più accattivante, la struttura dei brani è più curata e ricca di buoni arrangiamenti. A questo punto aspettiamo davvero il debutto per la prestigiosa etichetta francese.