COLIN STETSON & SARAH NEUFELD, Never Were The Way She Was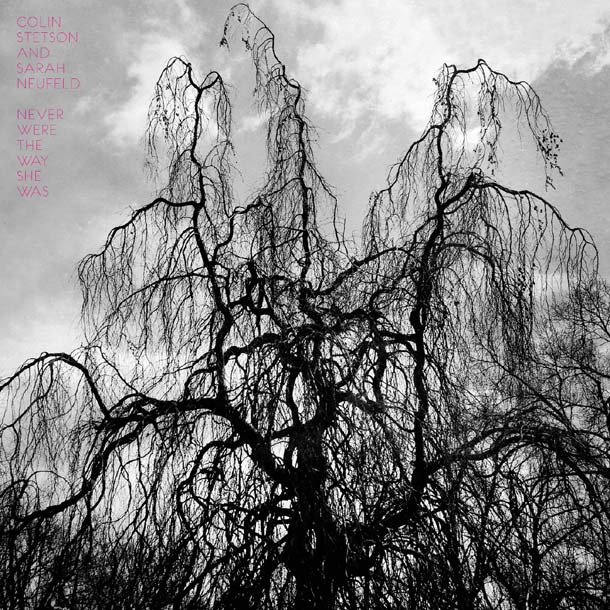 Colin Stetson è un uomo in cammino lungo nuove traiettorie della musica. Dopo lo stordente New History Warfare Vol 3: To See More Light, del 2013 (Constellation, che ve lo dico a fare), colosso di respirazione sassofonistica tra dolcezza e forza bruta, ritorna a far vibrare gli ottoni, questa volta in compagnia del violino spaziale di Sarah Neufeld.
Never Were The Way She Was fa risuonare negli strumenti acustici (sassofoni, violino e i rispettivi corpi) anche il corpo umano. Nell'intenzione degli autori vuole farsi metafora dello scorrere inesorabile del tempo fin da subito, con l'accecante inizio di "The Sun Roars Into View", dove i drone di Stetson lasciano al violino una melodia che mima un'alba sulfurea. Da qui si aprono verdi vallate a perdita d'occhio, dove con pochissimi, calibrati suoni ci si parano innanzi una sorta di "sturm und drang" (le scansioni quasi elettroacustiche di "With The Dark Hug Of Time" oppure i ronzii degli armonici bassi nella traccia che dà il titolo all'album, dove Stetson trasfigura completamente lo strumento, tanto da farne un vero prolungamento del respiro), momenti di pura contemplazione, una danza che stordisce (i microfoni a contatto addosso fanno sembrare il battito a tratti "cardiaco", sentire "The Rest Of Us") e perfino barlumi di "armonie jazz", se vogliamo chiamare così la danzante "In The Vespers".
Musica materica che umanizza la natura attraverso l'acustica, quindi: Never Were The Way She Was è come un massiccio di granito illuminato da una luce abbacinante, entrarci significa lasciare che ci frani addosso. E poi è perfino "motorico", e non si può chiedere di più.
Tracklist
01. The Sun Roars Into View
02. Won't Be A Thing To Become
03. In The Vespers
04. And Still They Move
05. With The Dark Hug Of Time
06. The Rest Of Us
07. Never Were The Way She Was
08. Flight