TUNNG, This Is Tunng… Live From The BBC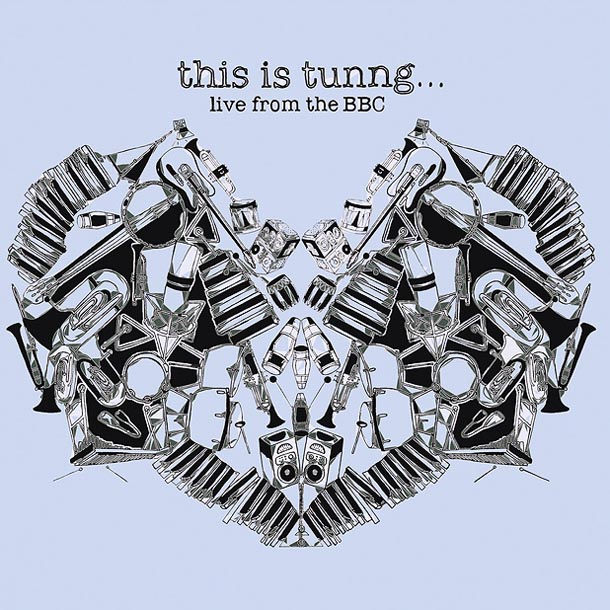 Questo è ciò che siamo.
E così anche il quintetto britannico approda a questo live registrato per la storica radio nazionale. Disco di passaggio e quasi obbligato, verrebbe subito da dire, che serve anche a fare un resoconto di una carriera – presto decennale, ormai – costruita su solide basi folk. Aggiungiamo che è in lavorazione il nuovo disco e che uno dei membri, Mike Lindsay, ha pronto un suo progetto a nome Cheek Mountain Thief, che uscirà anch'esso quest'anno. La formula è quella già collaudata, in buona sostanza trattasi di un incessante "massaggio" alla forma canzone che di quando in quando accarezza persino afrori lontani: la notevole melodia di "Tamatant Tilay" è un perfetto esempio d'inglobamento rock pan-nazionale forte del decisivo featuring dei nobilissimi Tinariwen. Con "With Whiskey" e "Jenny Again" lo scenario si calma in favore di una forma di torch-song certo non cosi originale, mentre in "Wind Up Bird" sembra di ascoltare i The Books spogliati delle pretese avant. Segnaliamo ancora "Beautiful And Light", spleen notturno da periferia d'Albione infarcito di campionamenti e fisarmoniche, e "Naked In The Rain" (cover dei Blue Pearl), dall'andamento felino e con quelle voci che s'intrecciano senza sosta e il banjo che ricama gentile.
I Tunng sono questo e altro ancora, dunque, e dimostrano di fare dell'eclettismo strumentale la loro arma vincente. A tratti si ha la sensazione che vogliano abbracciare troppe atmosfere, rimanendo però nel guado di una (troppo) rassicurante sperimentazione sulla pasta folk, riveduta e corretta alla luce delle nuove tecnologie. Quando invece vanno a briglia sciolta centrano il bersaglio, non a caso la collaborazione col gruppo (chissà quanto estemporanea) di musicisti di origine tuareg ci ha letteralmente conquistati.
Tracklist
01. Take
02. Wind Up Bird
03. Bullets
04. It Breaks
05. Jenny Again
06. Tamatant Tilay
07. Beautiful & Light
08. Hustle
09. With Whiskey
10. Jay Down
11. Pioneers
12. Naked In The Rain
13. Surprise Me