SHACKLETON with ERNESTO TOMASINI, Devotional Songs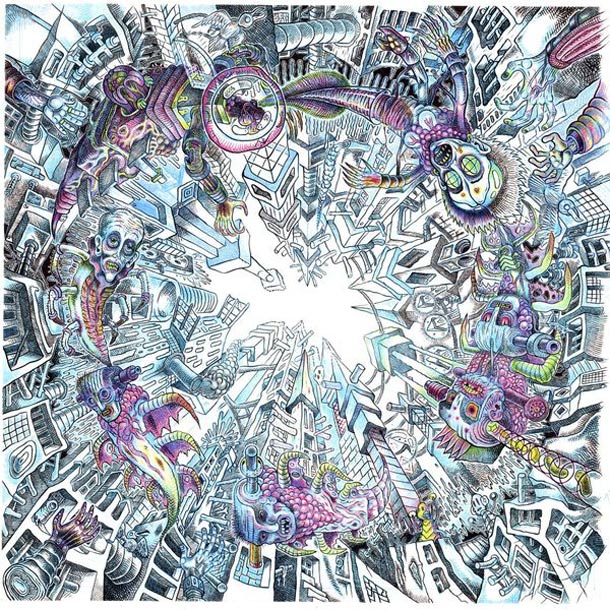 Quando è circolata la notizia dell'uscita del disco stentavo a crederci. Cosa lega uno dei producer più intelligenti e geniali degli ultimi quindici anni almeno a una delle voci più eclettiche del panorama pop internazionale, degno erede di Klaus Nomi? Facile, la risposta è nella domanda stessa: due artisti così peculiari non potevano che incontrarsi, anche perché Tomasini opera da anni ormai a Londra e Shackleton è di quelle parti, da qualche tempo s'è trasferito pure lui a Berlino. Probabilmente a Sam sarà venuta voglia di dare nuova linfa alla sua creatura sonora, dunque uno come Tomasini gli dev'essere sembrato il soggetto adatto. Congetture a parte, questa non è la solita collaborazione: più si ascolta Devotional Songs e più ci si rende conto della forte personalità dei due. Alla fine oltre al risultato conta proprio l'addizione, che dà un senso ancora più profondo a un disco fatto di canzoni – a esser precisi piuttosto fluviali e articolate – arrangiate con grande perizia (non potrebbe essere altrimenti…) e cantate, va da sé, da Dio.
L'apertura è maestosa: "Rinse Out All Contaminants" ha un andamento pachidermico e inesorabile, Tomasini s'inventa una sorta di nenia che poggia su un cangiante tappeto elettronico, nella quale ripete affranto "I'm feeling ill and tired…", il risultato è notevole. L'impressione generale è che all'inglese questo compito riesca bene, ma si può capire chi storce il naso, vista una serie di passaggi al limite del prog-rock, si ascolti lo zigzagare di tastiere nella lunga "You Are The One" o lo speech teatrale di "Twelve Shared Addiction", che però ha il merito di mettere maggiormente in risalto la voce del siciliano, elastica come una molla appena uscita dalla fabbrica e accompagnata da un crescendo febbrile come pochi. Chiude la complessa "Father, You Have Left Me", come a rimarcare la fine di un viaggio. Viene da pensarlo, dato che l'insieme ricorda una sorta di concept-album d'altri tempi.
Tracklist
01. Rinse Out All Contaminants
02. You Are The One
03. Twelve Shared Addiction
04. Father, You Have Left Me