Sabato 21 luglio ci sarà Mønt'sound Vol II: Father Murphy + The Junkologist
Una serata di musica sperimentale tra i resti del castello di Monte di Buja (UD).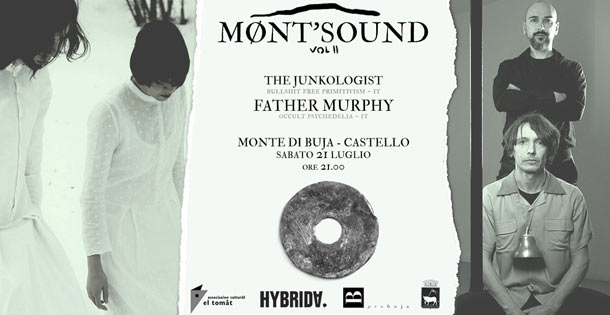 Dalle ore 21 si esibiranno
The Junkologist (Bullshit Free Primitivism – It)
Father Murphy (Occult Psychedelia – It)
The Junkologist è l'incontro tra Steve Nardini e Lorenzo Mania (Linguaggio Macchina), una collisione d'urgenza che nasce da una forzatura; costruire con quello che si ha. Adesso. Detriti di suono techno e brandelli di storie, sartoria elettronica e linguaggio iconoclasta.
È rumore bianco e proviene da lontano. Bullshit Free Primitivism.
I Father Murphy tornano a suonare in Friuli per l'ultima volta. Rising. A Requiem For Father Murphy è il nuovo album dei Father Murphy, uscito per Avant Records/Ramp Local il 20 aprile 2018. Il disco segna l'ultimo capitolo della storia della band, oltre che la conclusione del concept relativo al personaggio di Father Murphy.