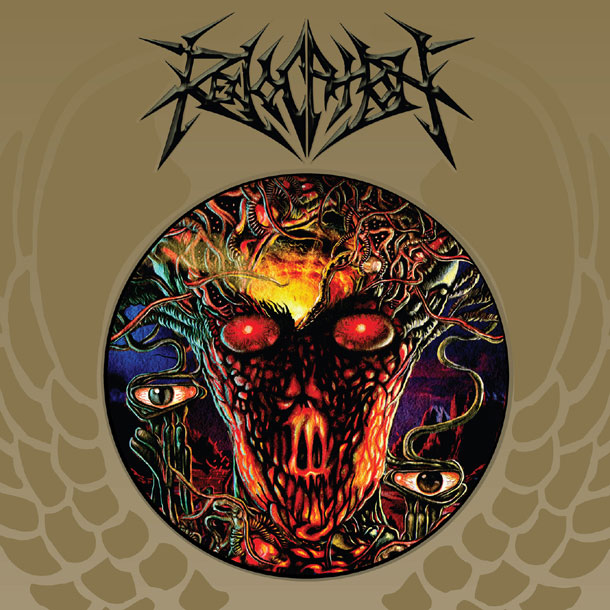 Finalmente un album di technical death/thrash fresco e originale, caratterizzato da virtuosismi mai stucchevoli e di sorprendente scorrevolezza. Gli ex Cryptic Warning, dopo il cambio di nome e l'assestamento della formazione (ora sono in quattro), hanno trovato la formula magica per la loro proteiforme proposta musicale. Se infatti lo sfoggio di tecnica a oltranza può risultare spesso arido e autoindulgente, in quest'album omonimo le canzoni appaiono invece fluide e legate tra loro da un filo d'ispirazione improntato all'immediatezza e alla spontaneità. La tensione e la forza d'impatto non vengono mai meno, al pari della componente melodica, molto più accentuata rispetto alle precedenti prove in studio (Chaos Of Forms e l'ep Teratogenesis su tutte).
L'aspetto dominante del suono dei Revocation è da ricercare nello stile chitarristico poliritmico di David Davidson (autore principale di musica e testi), ricco di spunti legati agli aspetti atonali del jazz (da assaporare il banjo di "Invidious"). Vocalizzi in screaming e growling coesistono in armonia con sfuriate thrash da assaporare tutte d'un fiato ("Numbing Agents" e "The Gift You Gave"), vera summa di un songwriting solido e brillante. La ricerca della melodia ("Arch Fiend") s'intreccia con un'avvincente intensità di esecuzione (la stratosferica "Spastic"e la tetragona "Scattering The Flock"), valorizzata da una produzione moderna ed incisiva.
Pronti a partire in tour europeo insieme a The Black Dahlia Murder e Aborted, i Revocation hanno preparato un ritorno ottimo e convincente. Un album da possedere! 
Tracklist
01. The Hive
02. Scattering the Flock
03. Arch Fiend
04. Numbing Agents
05. Fracked
06. The Gift You Gave
07. Invidious
08. Spastic
09. Entombed by Wealth
10. A Visitation