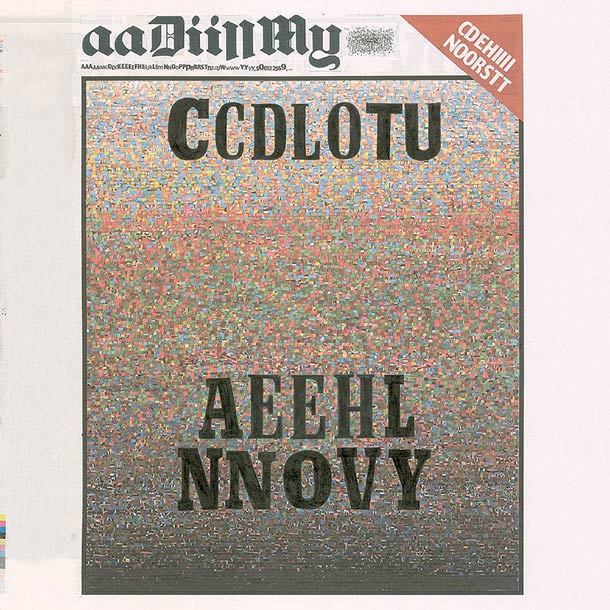 Scoprire l'artwork della settimana è un po' come risolvere un anagramma sulla Settimana Enigmistica. Tra parentesi: un ritorno bello e gradito.
Playlist
KILLING SOUND, Six Harmonies, Killing Sound (Blackest Ever Black)
BONOBO, Break Apart (feat. RHYE), Migration (Ninja Tune)
ROMARE, Who To Love?, Love Songs Part Two (Ninja Tune)
GAIKA, Glad We Found It, Spaghetto (Warp)
COLDCUT, Dreamboats (feat. ROOTS MANUVA & ROSES GABOR), Only Heaven (Ahead Of Our Time)
CLAMS CASINO, Be Somebody (feat. A$AP ROCKY & LIL B), 32 Levels (Columbia)
VINCE STAPLES, Loco (feat. KILO KISH), Prima Donna (Def Jam)
DEMDIKE STARE, Airborne Latency, Wonderland (Modern Love)
NATHAN FAKE, Now We Know, Degreelessness (Ninja Tune)
MATTEO SCAIOLI, Bianco pallido, Laughing Monkey (Timeless)
LORENZO SENNI, Emotiva1234, Persona (Warp)
EVOL, Right Frankfurt part 1, Right Frankfurt (Diagonal)
ASHTRAY NAVIGATIONS, Spray Two, Make A Fool Ask & You Arte The First (Blackest Ever Black)
OREN AMBARCHI, Hubris part 2, Hubris (Mego)
Pangea
Pangea è un continuum spazio-musicale, una serie di derive psicogeografiche musicali in costante mutazione, le cui traiettorie ed excursus vengono di volta in volta determinati dalla collocazione delle tessere del puzzle che ne compongono il percorso. A Pangea piace ricreare ambienti sonori stranianti ed inviare spedizioni di esploratori trainati da cani da slitta da un capo all'altro dell'orbe terracqueo. Pangea è suono che puoi seguire con gli occhi e per questo crede molto nelle nuove geografie. Pangea adora giocare soprattutto con le novità discografiche, poiché nella sua più intima essenza vi è un inappagabile anelito di futuro, di altrove e di inaudito, ma non disdegna incursioni e retrospezioni nei meandri più reconditi della Storia. Pangea è un programma radiofonico che va in onda in diretta ogni martedì sera, dalle 21.00 alle 22.30, sulle frequenze di
Radio Città del Capo
.