Night Shift, puntata 230 (Short Fuse)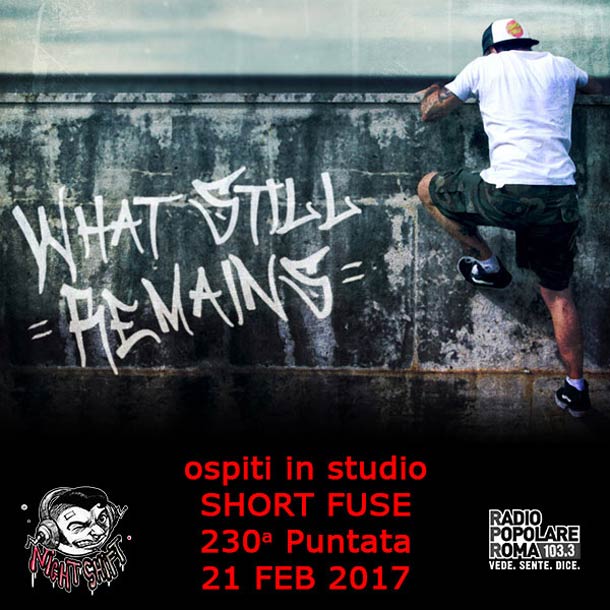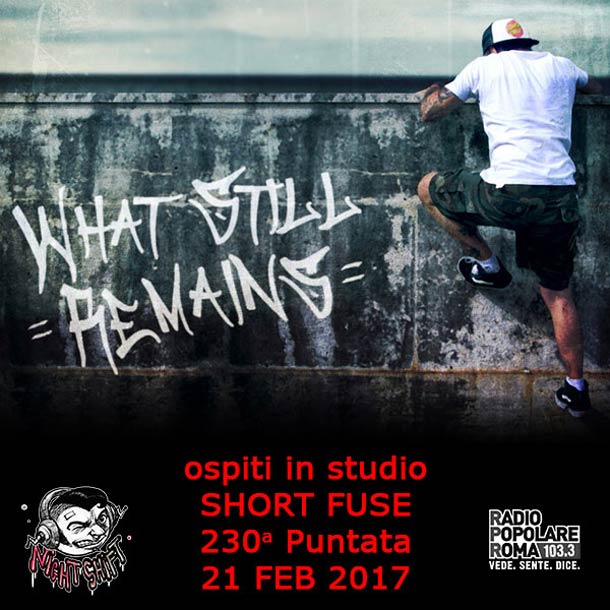 Gli Short Fuse sono una band nata nel 2014 che si ispira all'hardcore americano degli anni Novanta, ma con l'intento di proporre uno stile più moderno. Ci hanno presentato il loro primo ep What Still Remains, uscito nel 2016 per la Indelirium Records.
Playlist
01. White Riot – The Clash
02. Till Death – Short Fuse
03. Happiness for dogs – Millencolin
04. Everready – H2O
05. What Still Remains – Short Fuse
06. No Roses No Skies – Have Heart
07. Nei Tuoi Occhi – Tear Me Down
08. I Don't Need Them – Short Fuse
09. Pride (Times Are Changing) – Madball
10. Get Real – Obey The Brave
11. Violence – Short Fuse
12. Hard Times (Cro-Mags Cover) – Payback
13. Swan song – Bane
14. Reflection – Trial
15. Breathe Again – Short Fuse
16. Out Of Step (With The World) – Minor Threat
17. Hollow – To Kill
18. Moonlight Shadow (Mike Oldfield Cover) – NoProve
Night Shift
In onda ogni martedì a partire dalle 22:00 sui 103.3 FM di Radio Popolare Roma e in streaming su
radiopopolareroma.it
.
Contenitore musicale notturno che punta alla messa in circolo delle sonorità meno diffuse nell'etere romano. Grande attenzione è rivolta alle band underground nostrane, che vengono invitate a raccontarsi proponendo la loro musica e quella delle loro origini.