Night Shift, puntata 214 (Blasphemer)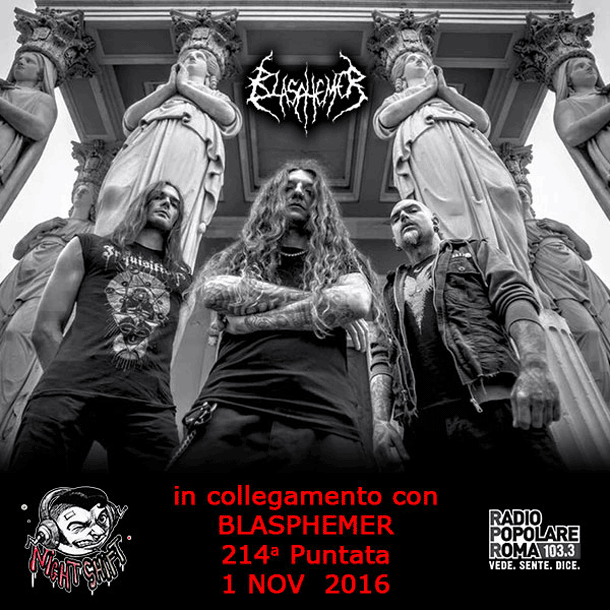 I Blasphemer sono una band dedita al metal più estremo e brutale a cavallo tra death e grindcore. Con loro abbiamo trascorso una serata in collegamento Skype parlando di band storiche del panorama extreme metal mondiale, tutti tasselli del mosaico che li hanno portati a comporre il loro recentissimo "Ritual Theophagy".
Playlist
01. Death or Glory – The Clash
02. Nihilist Preachers of Death – Blasphemer
03. Blaspherereion [Demo Version] – Deicide
04. Swamped in Gore – Broken Hope
05. You are nothing – Blasphemer
06. Thrones of Blood – Suffocation
07. God of Emptiness – Morbid Angel
08. Revealed Fraud – Blasphemer
09. Motherfuck – Infernal Torment
10. Infecting Them With Falsehood – Deeds of Flesh
11. Kuru, Laughing Death – Blasphemer
12. Katatonia – Relention
13. Impending Diabolical Conquest – Incantation
14. Obscuring the Holy Light – Blasphemer
15. Carbonized Eyesockets – Carcass
16. Sai Che Bevo, Sai Che Fumo – Nicola Di Bari
Night Shift
In onda ogni martedì a partire dalle 22:00 sui 103.3 FM di Radio Popolare Roma e in streaming su
radiopopolareroma.it
.
Contenitore musicale notturno che punta alla messa in circolo delle sonorità meno diffuse nell'etere romano. Grande attenzione è rivolta alle band underground nostrane, che vengono invitate a raccontarsi proponendo la loro musica e quella delle loro origini.