Integrity, The Secret e Raw Power al Venezia Hardcore Fest 2018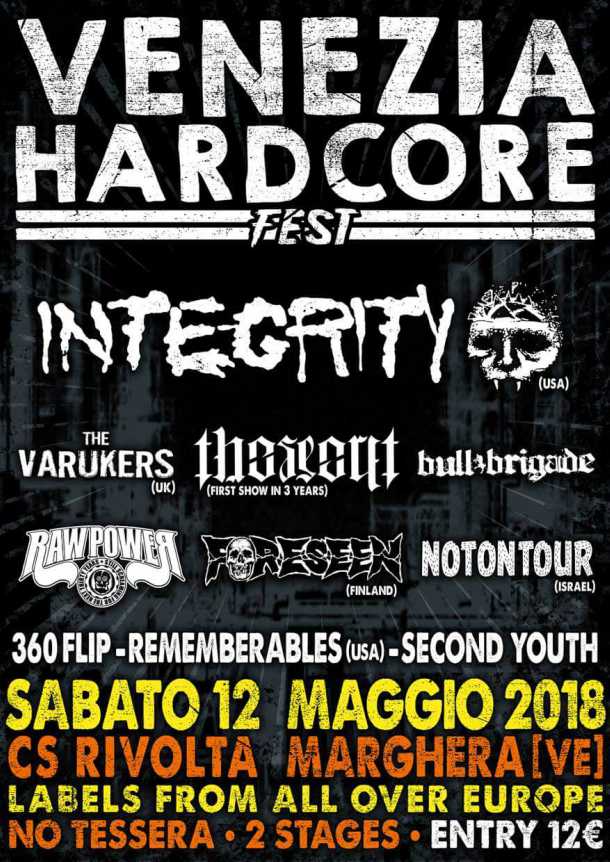 Riportiamo la notizia appena diffusa da Venezia HC. Ci sono gli Integrity, che abbiamo appena intervistato, e c'è anche il ritorno live dei The Secret, dopo 3 anni di stop.
VENEZIA HARDCORE FEST 2018 – VI Edizione
Sabato 12 maggio 2018
Rivolta PVC – via Fratelli Bandiera n.45, Marghera (Venice)
25 Band, 2 Palchi, area merch, skate, vinili – pizza, carne, cibo per vegani e vegetariani.
Il festival è gestito da volontari.
Biglietti € 12
Prevendite (annuncio a breve) € 10
Band
INTEGRITY (USA)
THE SECRET
RAW POWER
The Varukers (UK)
Not On Tour (ISR)
Bull Brigade
The Rememberables (USA)
Second Youth
360Flip
---
Qui l'evento su Facebook.