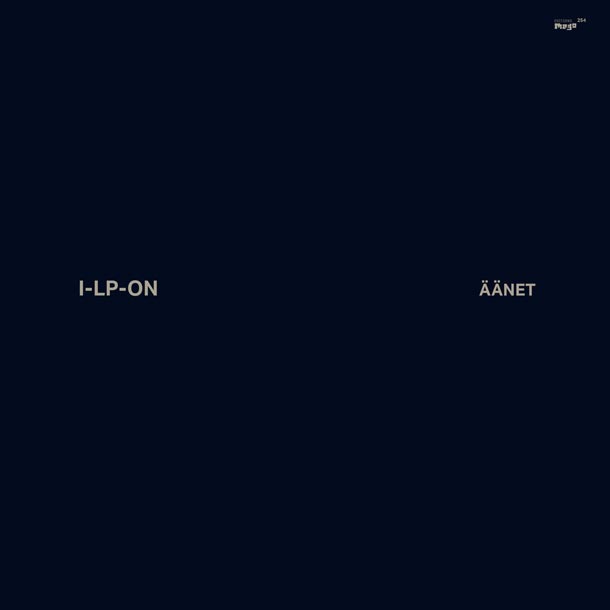 Ilpo Väisänen ha offerto una delle migliori performance di "Forma – Free Music Impulse", festival di musiche avventurose svoltosi a settembre e ottobre in giro per il Friuli. È un genio, lo sappiamo, anche se non è proprio un asso del marketing: nessun album in vendita a quel concerto, con questo disco nuovo ancora da stampare e mettere in circolo, cosa che sarebbe accaduta solo pochi giorni dopo. Peccato, perché ÄÄNET (che credo voglia dire semplicemente "suono") è valido. Si tratta di un omaggio, inevitabile e per fortuna non frettoloso, allo scomparso Mika Vainio, che per la cronaca comprende field recordings di un tour del 2000 dei Pan Sonic: questo spiegherebbe la presenza di Seattle e San Francisco tra i titoli delle tracce (all'epoca Ilpo e Mika facevano date in Nord America aprendo per Wire o Suicide), ma giustificherebbe pure i suoni "concreti" che sentiamo in "Muistossa 1, 2, 3".
Il peso del gruppo sulla musica venuta dopo (e durante) la sua attività è notissimo: qui si sente soprattutto l'influsso del dub, un genere che Ilpo predilige e sembra essiccare più che può, evidenziandone il carattere astratto, per certi versi spettrale, ma senza dimenticarne il rapporto con le basse frequenze. L'inizio di ÄÄNET lo lascia capire benissimo, così come permette di vedere il tentativo dei Pan Sonic di trovare un minimo comun denominatore tra dub, industrial e glitch. È altrettanto palese che stiamo parlando di un progetto passato alla storia per aver dichiarato guerra all'udito: in alcuni solisti di Vainio tutto questo era ribadito senza troppi problemi, penso a Life (…It Eats You Up) del 2011, mentre credo sia la prima volta che lo percepisco – provando la forte sensazione che i miei timpani stiano per bruciare – in un disco di Ilpo, ma del resto "it takes inspiration from the life of Pan Sonic", no? All'appello non manca nemmeno la componente techno, basta ascoltare l'album fino alla fine ("Lopussa").
Buono anche questo: spero solo, come già scritto nel caso del Vainio più Vigroux postumo, che non si cominci a far uscire qualunque cosa che in qualche modo abbia tracce di Mika su di sé. Vista la succitata abilità nel vendere di Ilpo, penso di poter dormire sonni tranquilli.