FIREBURN, Don't Stop The Youth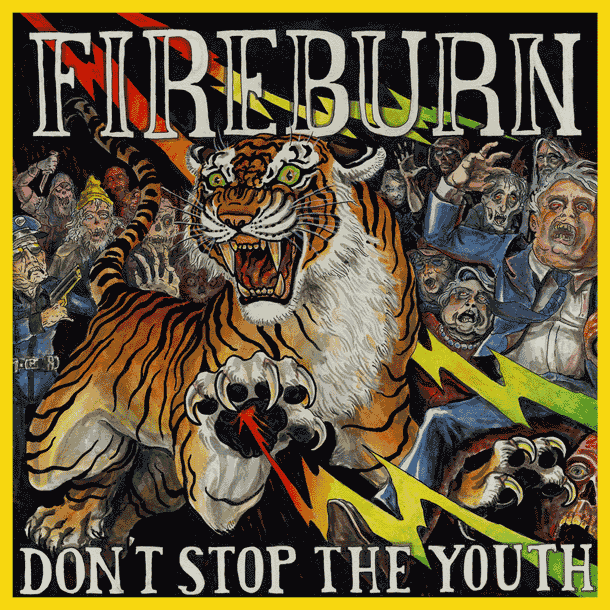 Israel Joseph I (Bad Brains), Todd Youth (Bloodclot, Warzone, Danzig, Murphy's Law), Todd Jones (Nails) e Nick Townsend (Deabeat, Knife Fight) hanno unito le forze per dare vita a una band che centrifuga insieme i loro background e i loro differenti stili.
Don't Stop The Youth rovescia sull'ascoltatore quattro brani – più remix – che non mancano di colpire il bersaglio, pur accendendo le aspettative per qualcosa di più sostanzioso: la voce di Israel finisce per forza con il richiamare alla mente proprio i Bad Brains, dei quali fu cantante durante il periodo di latitanza di H.R., così come ribadito dalla presenza di un brano in levare e del suo remix in chiave dub.
Eppure questo porsi a metà strada tra il tributo al passato e la novità non toglie niente al valore di un progetto che riesce a catturare l'attenzione e convince l'ascoltatore, soprattutto quando i vari ingredienti si miscelano al meglio producendo schegge di hardcore mutante, in your face quel che basta per non perdere la botta, ma al contempo ricco di melodie e stacchi atti a mettere in luce la chitarra di Todd Youth e la potente sezione ritmica.
I quattro appaiono avere le idee chiare sulla strada intrapresa e, pur nella sempre ingombrante ombra dei padrini rastafariani dell'hardcore, si dimostrano all'altezza della prova affrontata.
Certo, il tutto scorre via un po' troppo velocemente per poterci sbilanciare su future glorie, ma la partenza è quella giusta e noi decidiamo di stare al gioco, in fondo non dissimile, come approccio, da quello che ha portato lo stesso Youth a fianco di John Joseph nei Bloodclot.
Vedremo come andrà a finire e, nel frattempo, ci godiamo il giro di giostra.