Dicembre 2015 al Dal Verme
Riceviamo dagli amici del Dal Verme e pubblichiamo.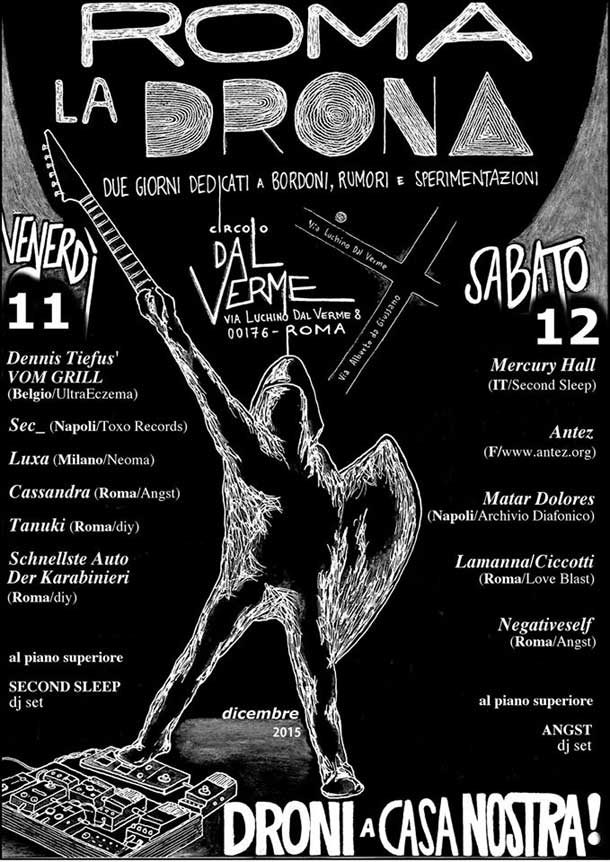 Venerdì 4
HAKAN (MI / Rufus Rec)
The RAUNCHIES (Rm)
garage punk
Sabato 5
AMBASSADOR21 (Bielorussia / Invasion)
digital hardcore / industrial
Lunedì 7
COMA CHAMELEON Party
dj Polaretto e dj Impro
Martedì 8
STAI A CASA FEST Vol. II
LAST MINUTE TO JAFFNA (TO / Argonauta)
PALMER GENERATOR
THIS MAKES US HUMAN
Sala sopra: REVERENDO KNOPF
Giovedì 10
Presentazione VIAGGIO A TOKYO di Vincenzo Filosa
Live: KAWAMURA GUN (Jp) + YOGO TRENO (Jp)
Venerdì 11
ROMA LA DRONA
Dennis Tiefus' VOM GRILL (Belgio / UltraEczema)
SEC_ (NA / Toxo Records)
LUXA (MI / Neoma)
CASSANDRA (Rm / Angst)
Sabato 12
ROMA LA DRONA
ANTEZ (FR)
MERCURY HALL (TV / Second Sleep)
CORPOPARASSITA (AL / Buh)
MATAR DOLORES (NA / Archivio Diafonico)
LAMANNA / CICCOTTI (Rm / LoveBlast)
NEGATIVESELF (Rm / ANGST)
Giovedì 17
Xylouris / White (Creta / Australia)
liuto e batteria / folk e blues
Venerdì 18
DALVERME festeggia 6 anni!
con BABA FEST!
Sabato 19
LORØ (PD)
TOMYDEEPESTEGO
math noise
Domenica 20
CARLOS DUNGA
MAX CARNAGE
hc punx
Martedì 22
OSWALDOWI (CZ)
JULINKO (IT)
folk / cantautorato oscuro
Venerdì 25
DJ SET di Natale
con LADY MARU
Sabato 26
Secret Show!
Domenica 27
HELLSPITE acustic set
Martedì 29
BALANCE (Love Blast)
synth modulari e spippoli
Giovedì 31
AFTER a DalVerme
DalVerme – via Luchino dal Verme n°8 Pigneto (Roma) – aperto dalle 20