DECEASED, Cadaver Traditions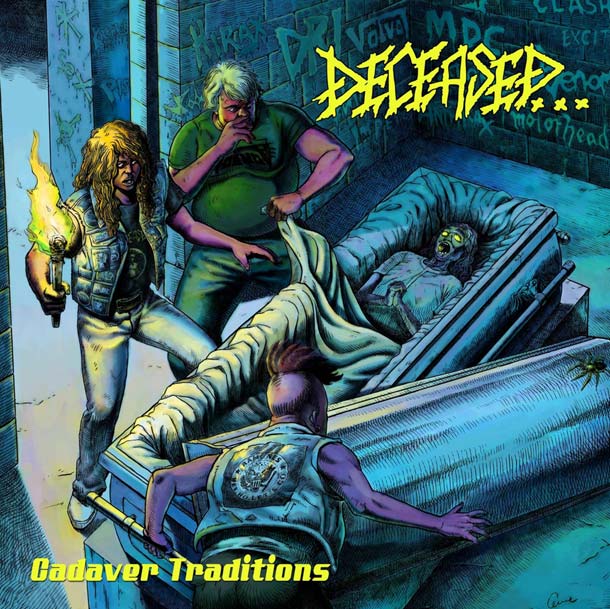 Personalmente ho sempre amato gli album composti solo da cover. In questo caso, poi, si oltrepassa ogni limite. I Deceased (gruppo tanto leggendario quanto di nicchia, dedito a un death/thrash marcio e depravato) ci regalano un doppio cd con 52 pezzi che spaziano dall'heavy metal al thrash, dall'hardcore/punk al dark. Kreator, Ramones, Raw Power, Plasmatics, Iron Maiden, Anthrax, Cro Mags, Sex Pistols, Sheer Terror, Warfare, Ozzy Osbourne, Excel, Bad Brains, Voivod e tantissimi altri vengono coverizzati con piglio personale e in maniera eccellente. La band di Arlington mostra una cultura enorme in campo estremo (perché ciascuno di questi artisti è estremo a modo suo) e ci aiuta a capire meglio come il suo inconfondibile sound sia nato e si sia sviluppato. Suona le sue versioni in maniera molto fedele agli originali, ma senza per questo ricalcarli in tutto e per tutto, perché la sporcizia di fondo "marca Deceased" è sempre ben presente, e questo è un bene, altrimenti non ci sarebbe gusto ad ascoltare pezzi copiati pari pari. Dal punto di vista vocale King Fowley se la cava egregiamente anche quando è costretto a spingersi più in alto (vedi "Wrathchild" della Vergine Di Ferro e "Wiped Out" dei mitologici Raven, alfieri dell'ondata New Wave Of Britsh Heavy Metal), mentre nei classici thrash/death/punk/hardcore il suo rantolo brutale e assassino può colpire a piacimento. In altri casi, come in "Not To Touch The Earth" dei Doors, tutto risulta molto originale nell'esecuzione. Ci sono anche brani dal vivo come "Stand Up And Shout" di Ronnie James Dio e "Subliminal" dei Suicidal Tendencies, riproposte davvero ruvide e crude.
Questo doppio lavoro racchiude i due vinili di cover sold out Zombie Hymns e Rotten To The Core, più 17 pezzi registrati apposta per l'occasione. La cosa che mi ha fatto molto piacere è vedere come i Deceased abbiano omaggiato la scena estrema europea, riconoscendone di fatto l'importanza capitale. Consigliatissimo.