Chi c'è all'Heart of Noise (Innsbruck) di quest'anno
Ce lo dice Basemental.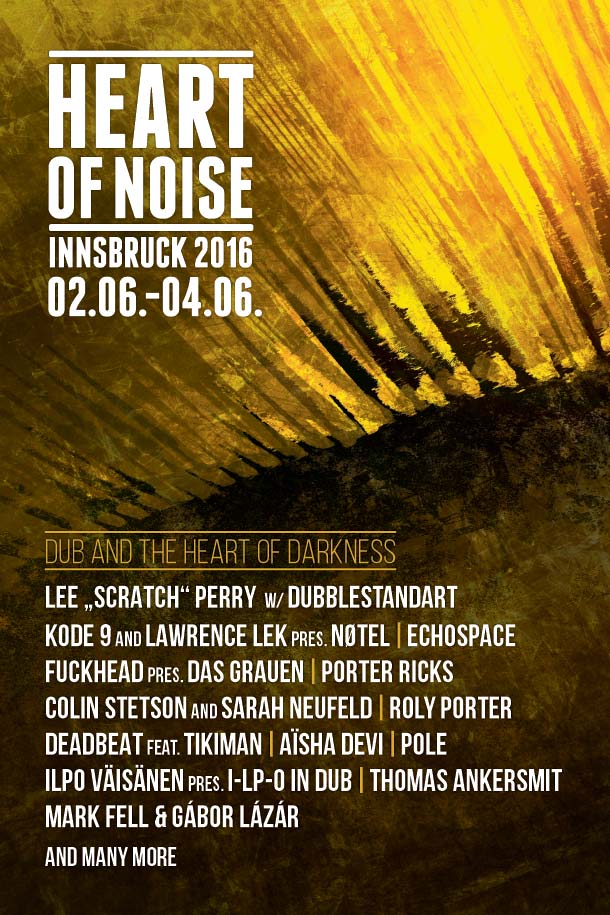 Lee "Scratch" Perry w/ Dubblestandart | Kode 9 and Lawrence Lek pres. Nøtel |
Colin Stetson & Sarah Neufeld | Fuckhead pres. Das Grauen | Echospace (Detroit) | Aïsha Devi | Deadbeat feat. Tikiman | Pole | Eartheater | Mark Fell & Gábor Lázár | Roly Porter | Porter Ricks | Ilpo Väisänen pres. I-lp-o in Dub | The Constitute | Peter Kutin | Jacques Palminger & The Kings of Dub Rock | Hypercycle | columbosnext | Opcion | Ulrich Troyer | Tapes | Asfast | treibgut | Hey-Ø-Hansen | Trauriges Tropenorchester
HEART OF NOISE 2016 | 02.06 – 04. 06
Dub and The Heart of Darkness
Sin dai primi anni '70 la Giamaica è considerata la "terra del dub". Un giardino sonoro dal quale provengono il dub e il reggae, linguaggi le cui influenze risiedono oggi una gran varietà di espressioni elettroniche: dalla house al dubstep, passando per la jungle, il british hardcore, il trip hop e la technodub, ritratti musicali della cultura europea contemporanea.
Dub è la prima key-word di Heart of Noise 2016: a rappresentarne la tradizione, direttamente da Kingston, il maestro Lee "Scratch" Perry, cui si affiancano idealmente tre alfieri della dub-techno contemporanea come Pole, Deadbeat ed Echospace. Accanto a questi, i Porter Ricks rappresentano infine il luogo in cui il presente e il futuro del dub si incontrano e scontrano.
Il secondo polo concettuale del festival rappresenta un opposizione all'ambiente "caraibico" del primo. Trattasi piuttosto di un cuore di tenebra, che culmina nell'omonima performance dei "Fuckhead" di Linz, ispirata al romanzo omonimo di Joseph Conrad, ripreso tra l'altro da Francis Ford Coppola nel film cult "Apocalypse Now".
Attorno a questi poli Heart of Noise 2016 presenta un cosmo, un frammento dell'universo parallelo della musica contemporanea. Quest'ultima è il frutto di un movimento migratorio partito nei primi anni '70 dai Caraibi e diffusosi poi a Londra, Berlino e New York, diventando così un simbolo della controcultura, un' alternativa alla musica pop delle riviste musicali e dei programmi TV, e che è diventata la forza emancipatrice delle culture alternative odierne.
HEART OF NOISE FESTIVAL

Dal 2011 Heart of Noise esplora regioni estetiche al di fuori dell'orientamento culturale dominante, presentando generi alternativi e impulsi d'arte contemporanea. Il festival non è solamente un evento musicale, ma un luogo di incontro tra linguaggi artistici diversi, il cui scopo principale è instaurare un dialogo tra le varie discipline, mettendo in relazione le installazioni audiovisive con gli spazi pubblici, l'arte transmediale con musica e clubbing. Heart of Noise lavora anche nella direzione di una messa in mostra della molteplicità delle arti performative, offrendo i propri spazi ad artisti e musicisti locali, emergenti ed internazionali, all'arte digitale, ai VJ e DJ, accogliendo dunque una grande varietà di forme della cultura e dell'arte contemporanea.