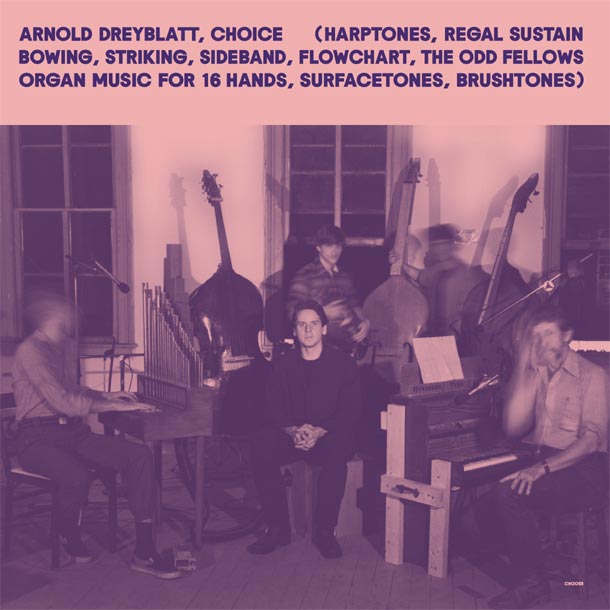 Forse è ovvio, ma per poter parlare come si deve di Arnold Dreyblatt – uno (letteralmente) della stessa scuola di capisaldi della drone music come Pauline Oliveros e La Monte Young – servirebbero tanta esperienza e pagine in più, soprattutto perché ho tra le mani un disco che colleziona tutta una serie di composizioni sparse lungo trent'anni di carriera.
Ad accompagnare Dreyblatt per gran parte della marcia di questo Choice c'è l'Orchestra Of Excited Strings: si tratta del suo collettivo, quello attorno al quale è ruotata tutta una ricerca musicale sospesa tra minimalismo e microtonalità (non a caso, tra i tanti compagni di viaggio del musicista troviamo anche Werner Durand). A più riprese le excited strings degli archi di "Flowchart" ricorderanno certe composizioni proto-drone di Giacinto Scelsi, i bordoni sontuosi e vagamente raga-eggianti di "Regal Sustain" o "Striking", invece, sembrano provenire da possibili fascinazioni per il Theatre Of Eternal Music, e da quelli che erano i suoi membri (Conrad su tutti, direi). Accanto a tutto questo vi è il Dreyblatt versione arrangiatore di, ad esempio, lavori come Animal Magnetism o Propellers In Love, che viene fuori soprattutto nel "gamelan-rock" di "Sideband" e nei simil-sitar on excitation di "The Odd Fellows".
Il fatto che sia stato lo stesso Konrad Sprenger (l'uomo Choose Records e persona di fiducia di Dreyblatt) a curare questa piccola antologia dovrebbe essere una garanzia sufficiente di qualità (tra l'altro il master è di Rashad Becker), oltre che di utilità per comprendere l'opera – a suo modo "eterna" – di Dreyblatt.
Tracklist
A1 Harptones
A2 Regal Sustain
A3 Bowing
A4 Striking
A5 Sideband
A6 Flowchart
B1 The Odd Fellows
B2 Organ Music for 16 Hands
B3 Surfacetones
B4 Brushtones