VIRTUAL FOREST, Unconscious Cognition Is The Processing Of Perception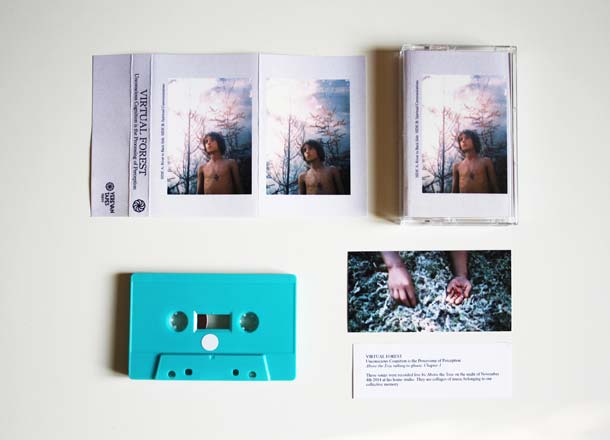 Dopo Bird People, la Yerevan Tapes torna ad addentrarsi silenziosa nella vegetazione seguendo le orme di Marco Bernacchia, artista e musicista marchigiano (Above The Tree) nelle vesti di Virtual Forest, guida spirituale errante verso una nuova dimensione sonora.
Uscire dal sentiero battuto dall'uomo, segno illecito di appropriazione del suolo, per trasgredire attraverso le fronde battute dalla pioggia e dal vento. Flauti lievi rincorrono un ruscello e percussioni lente e pesanti scandiscono una marcia lungo le sue sponde. La natura è illuminata e iridescente, la magia scorre vibrante e canti mantrici accompagnano la scoperta di un luogo i cui contorni vanno disegnandosi durante l'ascolto. I tamburi si agitano, le voci si levano alte e danze forsennate lasciano impronte sul terreno, nel tentativo di raggiungere lo stato di trance in "Spiritual Communications". Un'estasi distorta e turbata, popolata da spiritelli striduli che introducono un coro di bassi e drone profondi, in cui suoni, circuiti pulsanti, versi di animali e musiche eteree si fondono in un'unica massa informe che annebbia l'udito. Le forme di un paesaggio incontaminato bagnato dal sole si appannano e i colori si saturano liquefatti, da un giardino bucolico dove vivere di frutti spontanei ci ritroviamo ciechi in una confusione frenetica e abbacinante. Un viaggio acido nella percezione sensoriale indotto da un piccolo, ottimo nastro.