GEOMETRICAL RAPE, The Multiple Personalities Of The Meat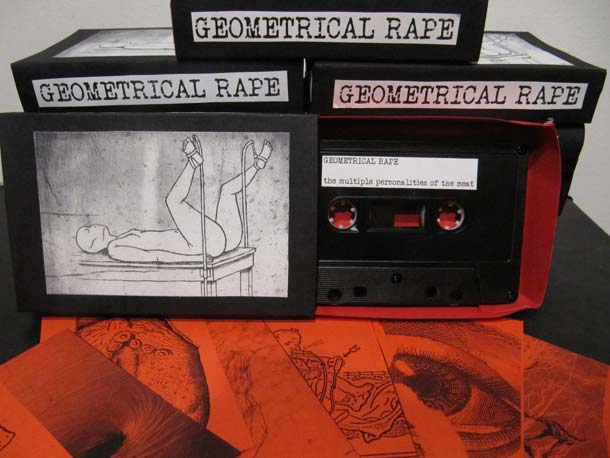 Visto e considerato il background di Gianluca Martucci (Urna) e Filomena Rubino (Fe<Male Fou), due artisti dei quali ci siamo occupati in diverse occasioni, ci si aspetterebbe che questo progetto fosse una sintesi tra harsh noise e ritual, carica di occultismo e malattie. In parte lo è, ma le sorprese che arricchiscono la base di partenza non mancano. "Be Sucked", prima traccia, rimane fedele alle aspettative di cui sopra, una nenia notturna frammentata da un arpeggio, enigmatica nell'alternarsi di cori profondi e addolcita dalla voce femminile, che prosegue nei tamburi di "Hallway", dove le distorsioni leggere fanno da sfondo a una ritmica neofolk marziale e atavica. Noise carico di atmosfere sognanti in "Foam", mentre arpeggi melodiosi tamponano l'acredine in "Wheeze", con musiche morbide che anticipano "Geometrical Rape" e "Muffled". La voce di Fe<Male Fou si dilata e rimane sospesa a mezz'aria su di un letto di suoni leggeri, shoegaze delicato e contaminato da alcune ombre, che ricorda qualche pezzo più noir degli Slowdive. Le atmosfere più legate al lavoro di Urna chiudono un cerchio di bassi, rimbombi lontani, suoni che riaffiorano dal passato in "Shapes Between The Trees" e una voce carica di amarezza ricalca le parole di "Protect Me You" dei Sonic Youth.
Un insieme in cui prevale una malinconia agitata, i pensieri e i ricordi stridono col presente, un lavoro marchiato Diazepam che prende il meglio dei due artisti e lo fonde in un'altalena cigolante tra tenebra e luce.