Venerdì 20 al Tetris (TS) Postvorta + Human Host Body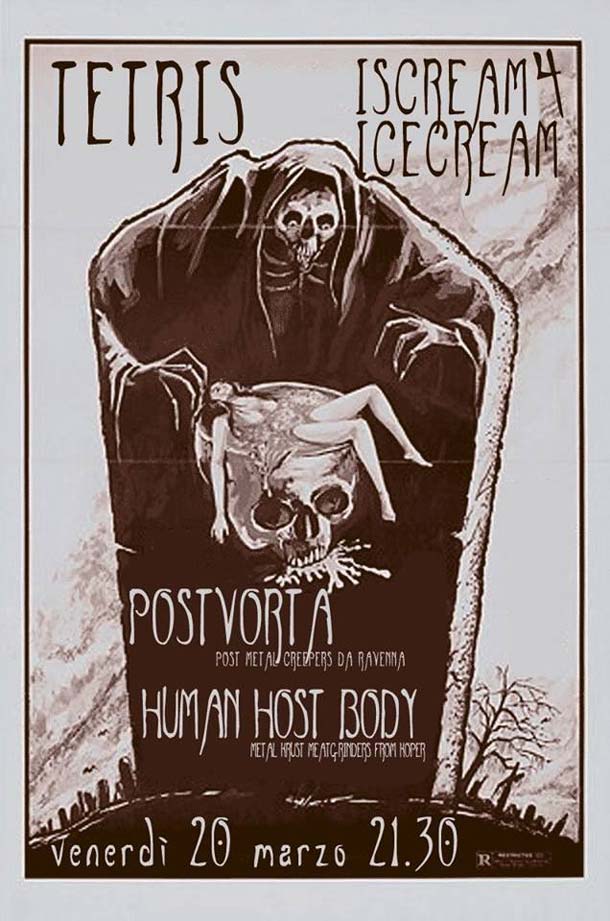 Su segnalazione di Iscream4icecream.
L'anno scorso non si è parlato forse a sufficienza dell'esordio dei Postvorta da Ravenna, quintetto (tre chitarre, voce, basso, batteria) che origina da Black Sound Empire e The End Of Six Thousand Years e che per la registrazione è andato dal grandissimo Paso. Hanno appena aperto per i Callisto e fra un po' li vedremo a Trieste (con gli Human Host Body) e a Ravenna (coi Nudist, nostro nuovo pallino): questi dati parlano già piuttosto chiaro di Beckoning Light We Will Set Ourselves On Fire, col quale il gruppo prova a fare il suo postmetal, coprendo una larga porzione dello spettro sonoro (da vezzi prog a intermezzi ambient/noise à la ultimi Yellow Swans).
Ad aprire a Trieste, scrivevamo, gli anarchici crust istriani Human Host Body (c'è pure un po' di black secondo noi, del resto quando il luogo dove vivi per simbolo ha un caprone…).