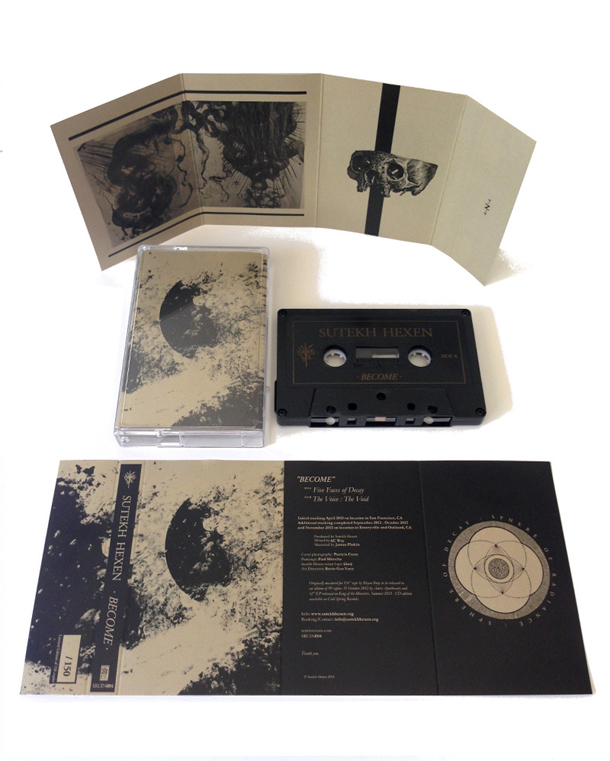 Tra i lavori più rappresentativi del gruppo capitanato da Kevin Gan Yuen, uscito in origine su bobina magnetica e giustamente ristampato in vinile da King Of The Monsters (chi, d'altronde, ha ancora in casa un Geloso di quarant'anni fa?), Become giunge ora in un nuova edizione, questa volta su Sentient Ruin e in formato cassetta, un supporto mai disdegnato dal gruppo, anzi, basta vedere tra le altre le release su Zeitgeists.
Black metal e noise è quello che i Sutekh Hexen ci hanno sempre insegnato a temere e non potrebbe essere diversamente nella mezz'ora complessiva dei due brani "Five Faces Of Decay" e "The Voice: The Void". Di quest'ultima distruttivo il lungo crescendo finale velatamente drone/dark ambient, che esplode in un tuffo verso un inferno di distorsioni incontrollate e urticanti. Chi diceva "se tu riguarderai a lungo in un abisso, anche l'abisso vorrà guardare dentro di te", doveva già aver ascoltato qualcosa di molto simile.
Discografia alla mano, si potrebbe parlare di questo titolo come il fratello ancora più cattivo – se possibile – di Larvae (Handmade Birds, 2012). Laddove il disco per l'etichetta di Rich "Pyramids" Loren ricordava, nelle sue stasi melodiche, gli Ash Borer nei momenti di caos "calmo" di Cold Of Ages, Become invece finisce talvolta per trascinarti nei meandri marci sempre della Profound Lore, quelli però governati dai Wold.
Nell'impossibilità di scappare, non ci resta quindi che affrontare i mostri, sperando di non diventare come loro.