Road Dogs: beyond the Decline of Western Civilization
Shane Aquino is the filmmaker and director of 'Road Dogs', the movie that epitomized six years of road madness, unbelievable stage extravaganzas and extreme lifestyles by three of California's most visually bewildering and artistically relentless bands (Peppermint Creeps, Heavenly Trip to Hell and Kettle Cadaver), while they were crossing the U.S. on a total D.I.Y tour. This doc/film pushed the "rockumentary" format to a new level, where a disturbing, intriguing and amateur styled footage ala The Blair Witch Project meets Sodom, Gomorrah and, above all, an overwhelming underground world of independent rock n'roll. Forget all of your artificial, fake and pompous MTV-like jests and be prepared for an anarchic slap of vivid hyperrealism in the raw.
Road Dogs also features Alexis Arquette, Chris Holmes (W.A.S.P), Brent Muscat (Faster Pussycat), Kittie, Dino Cazares (Fear Factory), Uranium host Mistress Julia (Fuse) and exclusive footage of German psychobilly band Mad Sin. It was officially selected for the Etrange Festival 2012 that will take place in Paris on September 10th.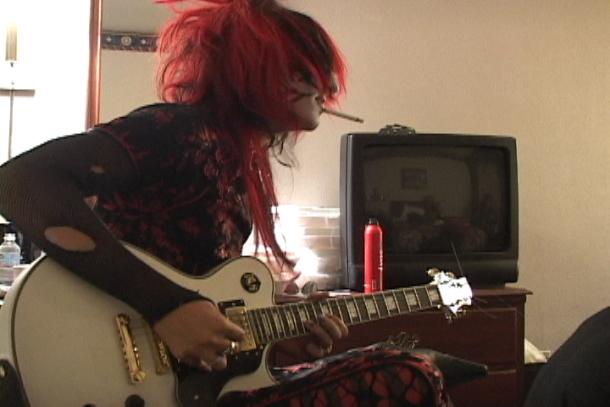 Let's start from the very beginning of Road Dogs. What was this all about at first and what inspired you the most (I mean, movies, books or anything else)?
Shane Aquino: The entire thing was accidental. Or rather, one might say destiny. I was chosen by the band Heavenly Trip To Hell to do a music video. Meanwhile I was just shooting video of their lives and performances. Through them I connected with the other bands in the film. Same deal was made. I directed all their videos and just spent many years shooting everything the bands went through. I knew I was going to compile it all together but did not know what the theme was going to be or how it would be structured. After the death of Traci Michaelz it sort of all just fell into place in my head. I just gunned it.
The introduction, the do's and don'ts list for the perfect tour, the voice-over through the film -plus all kinds of weirdo's and religious fanatics met on the road – resemble cult stuff like 'Lorna', 'Motorpsycho' and 'Faster, Pussycat! Kill! Kill!' (that's to say, some of the most outstanding production by Russ Meyer), but with the characteristics of a crazy and realistic rock n'roll road movie. Did you have some of that imaginary in your mind while making the doc/film?
No actually. I'm not really a big fan of Russ Meyer. It's hard to say that I had thoughts of other works in my mind as I constructed Road Dogs. If there are similarities then they are purely coincidental. It's nearly impossible to do anything totally original without it seeming to be borrowed from previous works now.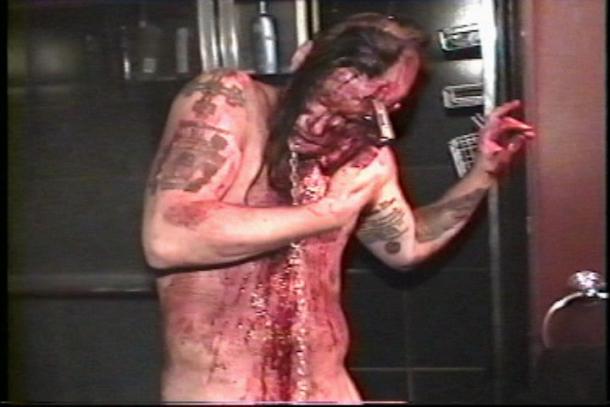 Your documentary might be juxtaposed to Penelope Spheeris' trilogy, 'The Decline of Western Civilization' or 'We Sold Our Soul for Rock 'n' Roll'. Now, as a filmmaker, in your opinion, which are the main differences between 'Road Dogs' and 'TDOWC'? Where is the added value in 'Road Dogs' if compared to these films?  The three bands seem to have quite different personalities when it comes to songwriting and live performances, though they are all so intense and devoted to their music. How did you chose them and what made you think of those three acts as the perfect protagonists for your movie?
Yeah there is a quote I use from Variety Magazine comparing me to Decline in some manner. I would consider anybody making this comparison as an honor. She was the pioneer of the rockumentary and I consider a comparison suggestive as me being this generation's Spheeris. The added value I always felt I had was that, unlike most doc crews, I was not there as an outsider shooting bands but somebody who was living the life along side. I just happen to have a camera in hand. This is how and why I got such intimate footage that most crews would usually never be allowed to film. These people became as close with me as family and to this day we are all very tight. Well there is one exception but I'll get into that another time. These 3 bands were all a part of a huge scene of many bands. They were just the 3 that I felt were worth my time and as I said before, why they accepted me into their world can really be described no other way than destiny.
Watching the movie, I had the impression that L.A. played a huge part on these musicians' life and background, as if it were a special ingredient able to reunite different styles and genres into a common field. Can you agree with my idea that this mix of different elements was helped by the city of angels?
I think there are so many elements to factor in. Sure the city has much to do with it. But there are the people, circumstances, stories, forces that may or may not exist here. Who's to say this could not happen in – let's say – New York. If given the same set of people, circumstances and so on that it still would work but maybe in a slightly different way.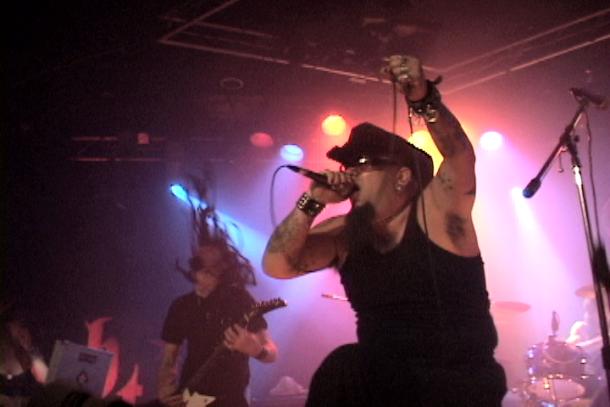 A great quote by Ruben MacBlue (founder, publisher and photographer of L.A. local music magazine since 1983, Rock City News), someone who really saw and heard it all, says: "No community, no scene". First, how did you get in touch with Ruben? Also, is there a real community in the Hollywood rock scene of today or – like Gerardo Crist claims in the film – is "90% of the crowd at The Whiskey Go Go made of wannabe musicians waiting for their turn to get onstage"?
Rock City in many ways was the SOURCE of the scene. They were all involved in that publication before I even came around. So naturally most of the events we were involved with, either was created by Ruben or he was at least there all of the time. Ruben is a good friend still to all of us. I didn't really need or try to get in touch with him. I don't even remember how or exactly when we ended up friends. You just realize one day that you are at each other's house all the time drinking beers and chatting about bullshit hanging out while conducting whatever business you need to. Not much thought to it. If there is a scene here in Hollywood today I'm not finding it. I'm around much of the bands and happenings here and all that magic there once was while I was shooting, seems completely absent. This place feels like a relic in a museum. I'm deeply saddened by it.
"Rock belongs to the streets". Another remarkable sentence by Gerardo caught from the film. Which are the next bands from L.A. (or the whole California), you musically consider the most "streetwise" for the future?
Either I'm completely out of the loop or maybe jaded but I almost never see any promising newcomers in the local scene. There are bands here that have a good thing going but they are people who have been around already for many years already. Maybe I need to get out more. Perhaps maybe I'm just burned the fuck out and don't care enough.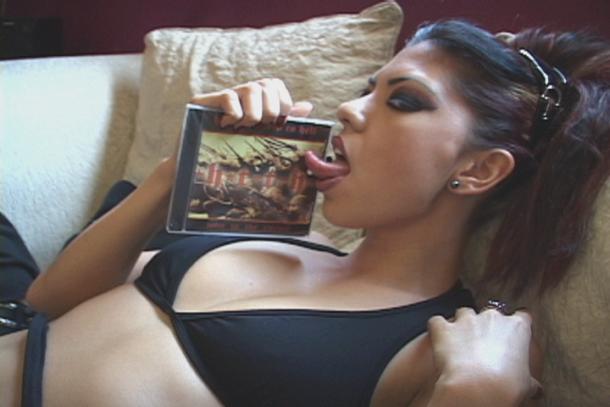 The documentary shows a real "d.i.y" (= do it yourself) approach to the music. The bands are all into promoting in first person their art and feel themselves intimately linked to their fan-bases. There's also a whole part of the movie about the importance to have a role and to interact with your own local-scene. Can you help us to understand the difference between a musician able to work on his base and someone trying to obtain a contract with a label without any real foot in a local scene?
Label? Are you sure they still exist? Shit has changed dramatically since the revolution of the music industry. I kind of like it. As before when eras could be defined by the style that dominated it. I.E. 80's had butt-rock or 90's had grunge and so on. Labels find something new and they all jump on it because they see a formula that sells. Then we end up with 8 years of a thousand bands that look and sound the same. It seems these days there are so many different genres and styles all mashed together in one pot. Since everybody can reach the same exposure, people now can grasp onto things they think are good rather than have labels dictate what you get exposed to. The rock belonging on the street rule is more likely to take affect this way.
The picture you draw is quite raw and realistic, with all the ups and downs a band might face on the road. What do you think of the current attempt to turn every scene (from metal to punk) into a friendly and acceptable mass product? Is the search for success an acceptable reason to cut down anger and attitude?
(sigh). With Road Dogs I felt that I had to make compromises, yet at the same time I'm surprised at where I have been considered acceptable. I approach my presentation in a main stream manner but try to hit as hard as possible. I always feel that when your name has no prestige, that when nobody knows who you are, then the only way to get attention is to make as much noise as possible. And when you are nothing and have nothing to lose, it makes it that much easier to take large unsafe risks. Also, what they say in acceptable these days has no value anyway. It's constantly changing and usually filled with too many contradictions anyway.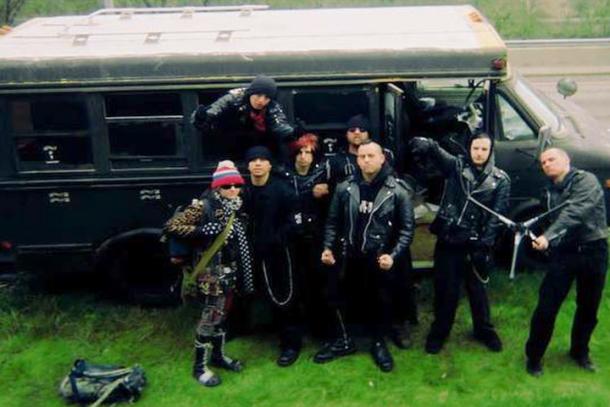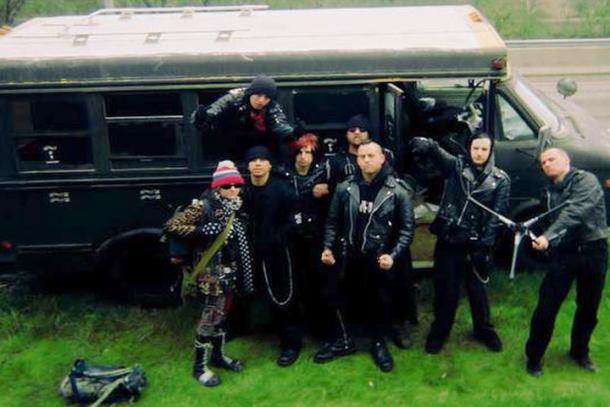 Do you think America is spiritually and politically prepared for 'Road Dogs'? Will there be a new edition of the PMRC to face up to?
America is not prepared for anything. It is impossible to predict how or why people here will react to anything at all. Although there are always the exceptions, I imagine a good deal of people who enjoy Road Dogs will completely miss the point of the film and enjoy it for terrible reasons. I think that at least 80% of Americans are more prepared to paint themselves up completely orange and attempt to become cantaloupes.
Traci Michaelz of Peppermint Creeps – a band I've always worshipped for their immaculate underground consistency – was one of those "unfortunate musicians, that we idolize the most as geniuses, but that are completely a fucked-up mess when it comes to personal life" (as someone says in the movie). While making 'Road Dogs', have you ever figured out you were going to portray the outline of somebody soon -perhaps too soon – to become a rock n'roll legend?
Look at state of most legends. I don't consider these people a "mess." This personality type has to be this way to allow the person to do the things most people can't. To be a legend is to perform beyond your human limit. I always knew what I was doing, and what was to result. Everything has played out the way I predicted.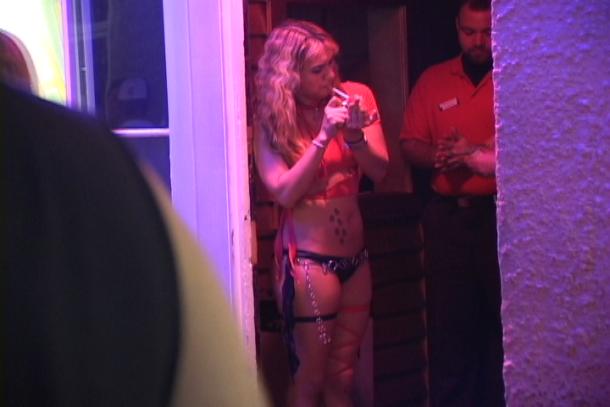 Forgetting the director and the filmmaker, how did you humanly react to tragic Lexa Vonn's message about Traci's passing?
How you would expect. He was our brother. Our ally.
Did this tragedy alter the way the documentary was initially intended or, at least, its spirit/message?
The passing instantly put everything into clear perspective. I felt I was right all along that it was my destiny to end up with these people. It felt in many ways like undeniable conformation that I was exactly where I was always supposed to be fulfilling a purpose.
I guess that Kettle Cadaver was the hardest band to manage as a director, am I wrong? Were you able to find a way to interact with their incredible full-speed, in your face power, onstage and out?
Believe it or not they were not the most difficult. They had the most efficient function. Edwin (singer) was the sole creative force with absolute focused vision. Once we formed into a comfortable collaboration zone we had steady work flow. Being on the road was indeed terrifying at times. But I don't consider life threatening lifestyles "difficult."
What's about Edwin Borsheim and his band nowadays?
No offense. I cannot discuss the nature of this question with you. When it surfaces, you will know.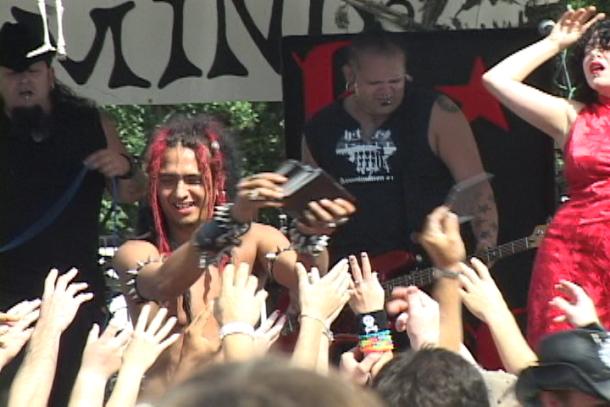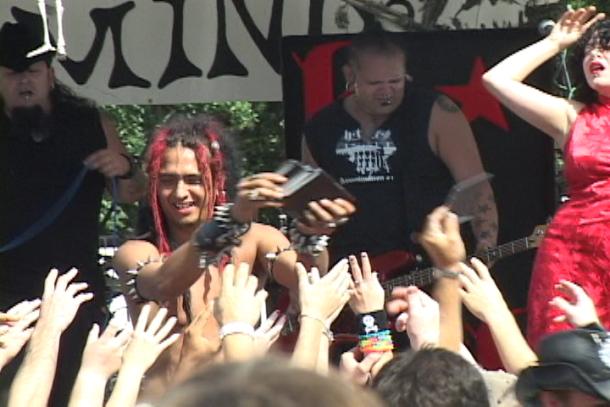 Also making this question to a starring character, the HTTH's manager and keyboard player Vicky Vicious. It looks like they eventually had the right approach to the whole touring matter. I mean, they seem to be so focused on their goals and hard-work attitude. We'd like to know something more about this band and what's going on with them. Are they going to come to Paris with you, as well? Ever been in the Old Continent before or any plan for a European tour in next future?
Vicky Vicious (HTTH): Heavenly Trip To Hell just finished recording a new album that should be out by Christmas. The new material is the best we have ever recorded.  We are very excited about the future and would love to get distribution in Europe.  We also just finished a new DVD with a bunch of videos and extra footage from all of our live shows and tours.  We have been staying busy at home now running our own club in Downtown Long Beach and having events at our store No Regrets. We support all local bands and local artists so the events have been very successful.  We are also very excited about the move Road Dogs premiering in Paris, France, because it will give us the opportunity to get more exposure outside of the U.S.   We cannot wait to go to Europe and tour.
Shane Aquino: After 15 years they are still going strong. If this works as well as it does, it's because of its Spartan like community. Keep many people close together with their own individual skill. No kink in the armor. One could only hope. This is our first time in France. This was to be one of the most important places on my list of places to be in the world. Next is Tokyo. I've been to Ireland a couple times. We're very excited.
I heard Road Dogs was selected for the Lausane Underground Film & Music festival, too.
Seems so. Hopefully we will not be pick-pocketed in Paris. I heard many psychopaths attend L'Etrange festival.  Can't wait.
Will there be any chance for Italy to check the movie? Will there be any distribution on DVD and for movie theaters?
Well my plan is for it to be everywhere. Shit is moving slow and it is because of our distributor. If you want to help out and bother the shit out of the person responsible please email Cole Payne with non stop requests and such at cp [at] instinctivefilm.com and soon I will be able to give you his cell phone number once acquired.
Thanks a lot for your time. Is there anything more to add?
I like Cinnamon Rolls.