PACT INFERNAL, The Descent (Chapter II)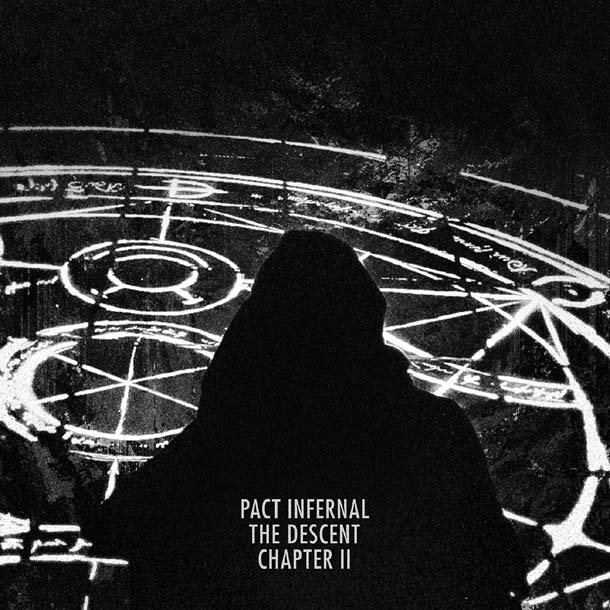 Questo secondo capitolo di The Descent chiude il discorso avviato l'anno scorso dalla "entità" Pact Infernal. Il disco è appena uscito per Samurai Horo, sussidiaria dell'etichetta berlinese Samurai Music (specializzata in drum and bass), a cui viene demandata la pubblicazione di lavori più sperimentali rispetto a quelli della casa madre.
Sperimentale, forse, e non certo ostico Chapter II, che continua il lavoro di ricognizione dei gironi infernali danteschi con sonorità e atmosfere in sostanza coerenti con quelle del suo predecessore: siamo fra il tribalismo elettronico e un ambient nero come la pece. Si nota una certa omogeneità, forse eccessiva: il repertorio di suoni non è originalissimo e abbiamo un canovaccio che si ripete bene o male in quattro delle cinque tracce. Sono ricorrenti le litanie in lingue arcane, a conferire un tono esoterico al tutto, mentre l'adozione di determinate soluzioni stilistiche, in particolar modo l'uso delle percussioni, ricorda da vicino alcune cose dei Demdike Stare, senza però quella finezza che ha reso il duo inglese uno dei fari della moderna elettronica da ascolto. Il viaggio dantesco sta giungendo alla sua parte più dolente, la patina plasticosa del primo capitolo è stata in parte rimossa e ne è venuta fuori una materia sonora fatta di clangori e stridii: qui si bada più a terrorizzare che a far muovere il piedino. Sono forse proprio le virate in direzione dark ambient la parte più felice dell'insieme, "felice" si fa per dire. I pezzi, nel complesso, aderiscono bene al concetto, circonfusi di quell'aura tragica alla Raime che li rende in grado a sufficienza di evocare il clima di atrocità e sofferenze cantato dal Sommo Poeta.
Tracklist
A1. Circle V (Anger)
A2. Circle VI (Heresy)
B1. Circle VII (Violence)
B2. Circle VIII (Fraud)
B3. Circle IX (Treachery)