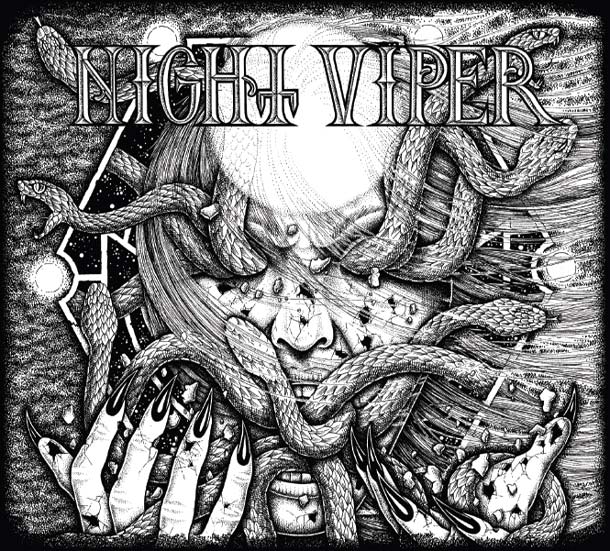 Fino a non molto tempo fa Göteborg era sinonimo di pessimo death metal melodico, di quelle sonorità che, oltre ad aver portato il genere alla deriva, hanno dato luce al peggior metalcore in circolazione. Per fortuna oggi ci sono gruppi provenienti da quella città che non sono dediti a quel verbo, come i Night Viper. Non abbiamo insomma a che fare con l'ennesimo clone scialbo e penoso di In Flames e Dark Tranquillity, bensì con una poderosa band di heavy metal classico, guidata da una voce femminile, che riprende il sound di fine anni Settanta e inizio Ottanta, quando qualsiasi cosa usciva dall'Inghilterra – magari sotto Bronze o Neat Records – era sinonimo d'indiscutibile qualità. Ogni qual volta ci troviamo di fronte ad una donna dietro un microfono in un contesto simile, il primo nome che ci viene in mente sono i Warlock, ma in questo caso – più che a loro e a Doro Pesch solista – i richiami più evidenti sono ad Angel Witch, Iron Maiden dei primi due-tre album, Judas Priest dei Seventies, Kiss, Quartz, Ratt, Tygers Of Pan Tang, Saxon e Thin Lizzy.
Questo debutto (da non confondersi con l'ep, sempre omonimo, uscito l'anno scorso) è davvero notevole. La cantante asiatica Sofia Lee-Johansson dimostra carattere e personalità, ed è quanto di meglio potremmo aspettarci in quest'ambito: sinuosa nelle parti più melodiche, esplosiva in quelle più sostenute. Alla chitarra c'è un personaggio che i fan del doom dovrebbero ricordare: Tom Sutton, l'inglese che militò per un breve periodo nei Church Of Misery (lo possiamo trovare nello split coi Deer Crack, negli ep Dennis Nilsen e Greetings From Jonestown e su quel gran disco che è Houses Of The Unholy, oltre che sul live al Roadburn dello stesso anno) e che ora è nelle fila dei The Order Of Israel. Se già con quei progetti ci aveva abituato ad alti standard qualitativi, la sua prova qui è superlativa: i riff, in linea con l'hard rock settantiano, sono ottimi. Dal punto di vista compositivo, del resto, non c'è proprio nulla da obiettare: brani come la title-track, "The Hammer", "Warrior Women", "Never Be Enslaved", "The Wolverine", "Run For Cover" e "Curse of A Thousand Deaths" rispecchiano una formazione già molto matura e consapevole dei suoi mezzi, in grado di scrivere canzoni molto ben strutturate e mai banali. La produzione è forse la migliore per un lavoro con un simile sound: tutti gli strumenti suonano alla perfezione, senza mai risultare né troppo moderni, né vintage in maniera scontata e approssimativa. Unico appunto che forse potremmo fare è alla copertina, che non colpisce in modo particolare e non rende l'idea di come suonerà il disco.
Night Viper è senza alcun dubbio un ottimo esordio, un riuscitissimo esempio di come si può suonare heavy metal nel 2015 senza aver troppo bisogno di copiare uno o più maestri del genere, ma dimostrando la classe necessaria che ci vuole per distinguersi nel mucchio.
Tracklist
01. Night Viper
02. The Hammer
03. Curse Of A Thousand Deaths
04. Run for Cover
05. Warrior Woman
06. Faces In The Mirror
07. Never Be Enslaved
08. Dagger In Hand
09. The Wolverine