Night Shift, puntata 222 (Element Of Chaos)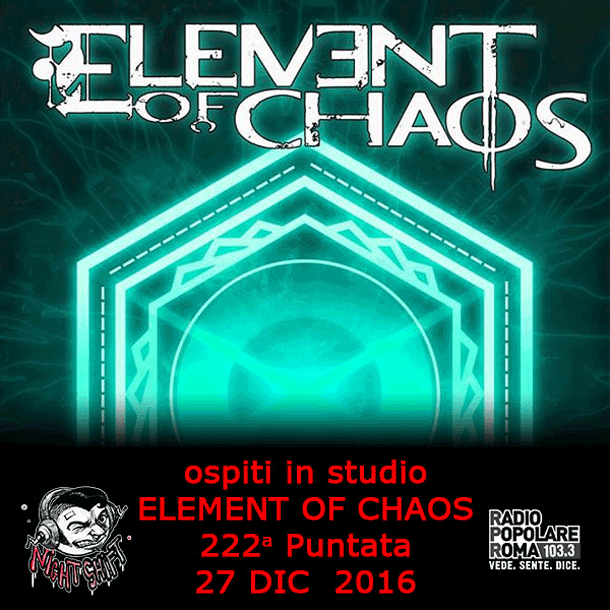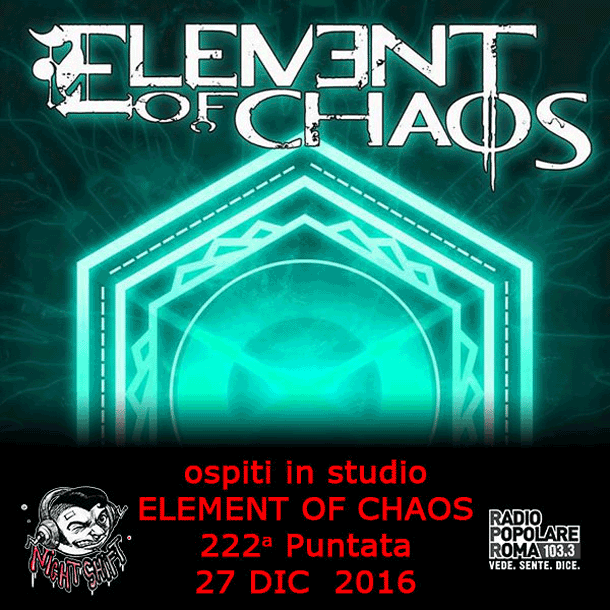 Gli Element Of Chaos nascono con l'idea di suonare metal moderno con influenze che spaziano dal primo deathcore al mathcore, passando per il post-hardcore.
Scelgono tematiche post-atomiche, creandosi degli alter ego con un look da sopravvissuti a un olocausto nucleare, arricchendo lo spettacolo live con la teatralità cara alla tradizione del progressive italiano e dell'art rock internazionale.
Playlist
01. Shake Your Hips – The 101ers
02. Idiots Lose Control – Element Of Chaos
03. Solidarity – Enter Shikari
04. Astral Body – Between The Buried And Me
05. The Second Dawn of Hiroshima – Element Of Chaos
06. Blood And Thunder – Mastodon
07. Dark Horse – Converge
08. Coming Home – Element Of Chaos
09. Luglio, agosto, settembre (nero) – Area
10. Laments of an Icarus – Textures
11. Epiphany – Element Of Chaos
12. Refused Are Fuckin Dead – Refused
13. Psywar – Mayhem
14. A New Dawn – Element Of Chaos
15. Niente – Negazione
16. The Gangs All Here – Dropkick Murphys
Night Shift
In onda ogni martedì a partire dalle 22:00 sui 103.3 FM di Radio Popolare Roma e in streaming su
radiopopolareroma.it
.
Contenitore musicale notturno che punta alla messa in circolo delle sonorità meno diffuse nell'etere romano. Grande attenzione è rivolta alle band underground nostrane, che vengono invitate a raccontarsi proponendo la loro musica e quella delle loro origini.