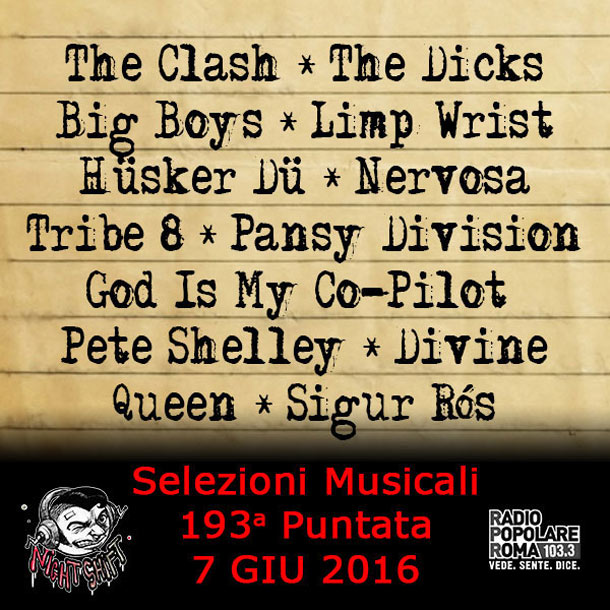 Avremmo dovuto inaugurare le dirette sotto le stelle, ma il tempo è stato inclemente e ci siamo rifugiati al coperto per un po' di selezioni musicali.
Da domenica 5 Giugno le unioni civili sono finalmente legge, un altro passo avanti verso l'ampliamento dei diritti. Nonostante ci sia ancora molto da fare per migliorare il nostro Paese, non possono portarci via la voglia di celebrare la nostra musica e le nostre unioni, di qualunque genere esse siano!
Playlist
01. Know Your Rights – The Clash
02. Saturday Night At The Bookstore – The Dicks
03. Spit – Big Boys
04. I Love Hardcore Boys/I Love Boys Hardcore – Limp Wrist
05. Don't Want To Know If You Are Lonely – Hüsker Dü
06. Intolerance Means War – Nervosa
07. Lezbophobia – Tribe 8
08. Political Asshole – Pansy Division
09. Queer Dance Anthem – God Is My Co-Pilot
10. Homosapien – Pete Shelley
11. Walk Like A Man – Divine
12. Killer Queen – Queen
13. Viðrar Vel Til Loftárása – Sigur Rós
Night Shift
In onda ogni martedì a partire dalle 22:30 sui 103.3 FM di Radio Popolare Roma e in streaming su
radiopopolareroma.it
.
Contenitore musicale notturno che punta alla messa in circolo delle sonorità meno diffuse nell'etere romano. Grande attenzione è rivolta alle band underground nostrane, che vengono invitate a raccontarsi proponendo la loro musica e quella delle loro origini.