Night Shift, puntata 192 (Date At Midnight)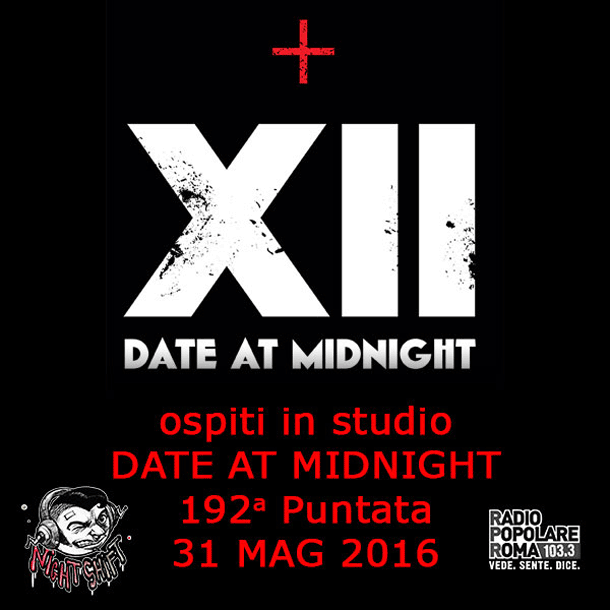 Le consuete chiacchiere musicali notturne sono andate in onda in compagnia dei Date At Midnight, tra aneddoti e sonorità new wave e post-punk.
I Date At Midnight si sono formati a Roma nel 2007. Dopo cinque anni tra live e composizione di nuovi materiali, la band ha appena pubblicato – ancora una volta per la Manic Depression Records – il nuovo album Songs To Fall And Forget, che aggiunge un tocco di malinconia darkwave al loro sound goth/post-punk, ampiamente apprezzato durante le apparizioni live in tutta Europa.
Ascolta la puntata sul Mixcloud di Night Shift.
Playlist
01. Inoculated City – The Clash
02. Cold Modern World – Date At Midnight
03. Love You To Death – Type-O-Negative
04. Autumn Wounds – Soror Dolorosa
05. Black Ashes – Date At Midnight
06. Sweethome Under White Clouds – Virgin Prunes
07. Sunspots – Nine Inch Nails
08. Waves – Date At Midnight
09. Charlotte Sometimes – The Cure
10. Rock 'n' Roll Suicide – David Bowie
11. Running 'round – Date At Midnight
12. Slave – Spiritual Front
13. Tupelo – Nick Cave & The Bad Seeds
14. The Virgin Light – Date At Midnight
15. Sleepwalk – Christian Death
16. Who Killed Mister Moonlight – Bauhaus
Night Shift
In onda ogni martedì a partire dalle 22:30 sui 103.3 FM di Radio Popolare Roma e in streaming su
radiopopolareroma.it
.
Contenitore musicale notturno che punta alla messa in circolo delle sonorità meno diffuse nell'etere romano. Grande attenzione è rivolta alle band underground nostrane, che vengono invitate a raccontarsi proponendo la loro musica e quella delle loro origini.