Night Shift, puntata 191 (Il Muro Del Canto)
Puntata più romana del solito per Night Shift.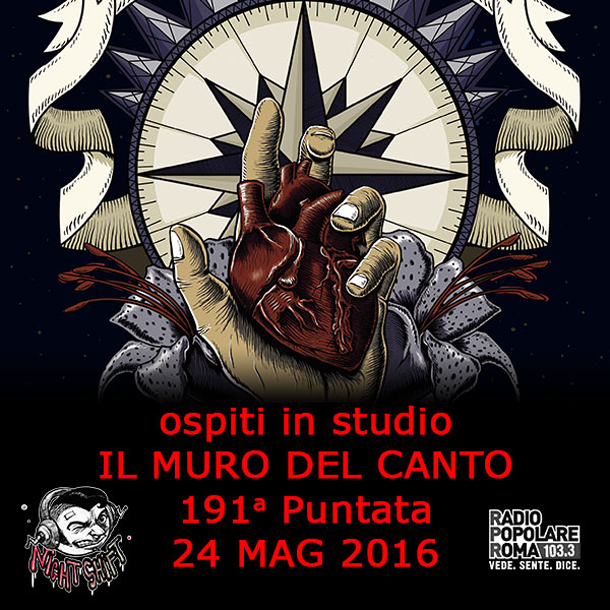 Abbiamo trascorso un paio d'ore insieme a Il Muro Del Canto, durante le quali ci hanno raccontato un po' di aneddoti e hanno selezionato una serie di brani per noi, come è d'obbligo nel salotto radiofonico di Night Shift.
Il Muro Del Canto è una voce popolare senza tempo. È l'inno alla terra, il disincanto, la serenata. È un canto accorato di lavoro, è la ninna nanna antica. È un progetto musicale che commuove, risveglia e infuoca gli animi. Fa piangere, sorridere e danzare.
Playlist
01. Johnny Appleseed – Joe Strummer & The Mescaleros
02. Fiore de Niente – Il Muro del Canto
03. Rose Tattoo – Dropkick Murphys
04. Stupida Estate – Surgery
05. L'Anima de li Mejo – Il Muro del Canto
06. Song of Joy – Nick Cave & The Bad Seeds
07. I Put a Spell On You – Screaming Jay Hawkins
08. Domenica a Pranzo Da Tu Madre – Il Muro del Canto
09. Washer – Slint
10. Sergio Leone – Colle Der Fomento
11. Quando Scende La Notte – Il Muro Del Canto
12. For Whom The Bell Tolls (Live With The SFSO) – Metallica
13. Bad As Me – Tom Waits
14. Ciao Core – Il Muro del Canto
15. Jackson – Johnny Cash & June Carter
16. The Ecstasy of Gold – Ennio Morricone
Night Shift
In onda ogni martedì a partire dalle 22:30 sui 103.3 FM di Radio Popolare Roma e in streaming su
radiopopolareroma.it
.
Contenitore musicale notturno che punta alla messa in circolo delle sonorità meno diffuse nell'etere romano. Grande attenzione è rivolta alle band underground nostrane, che vengono invitate a raccontarsi proponendo la loro musica e quella delle loro origini.