Night Shift, puntata 189 (Eversin)
Questa settimana ci siamo fatti due chiacchiere metal in compagnia degli agrigentini Eversin!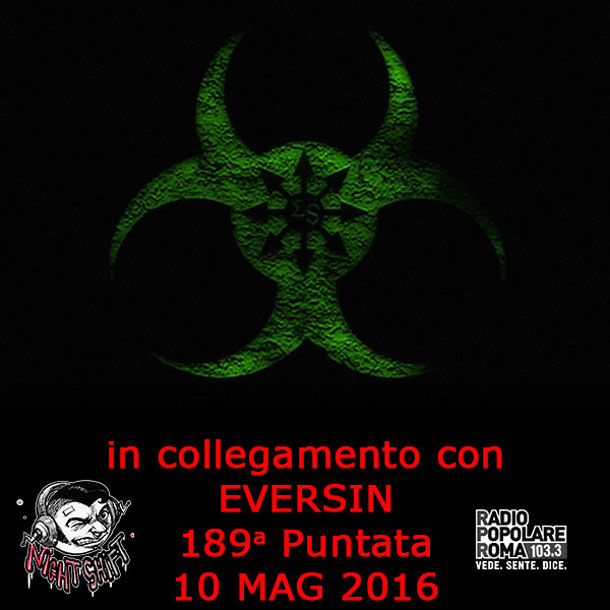 La band agrigentina nasce nei primi anni del 2000 e con il moniker Fvoco Fatvo inizia a portare in giro il suo heavy metal, facendo uscire i suoi primi due album. Durante la lavorazione del terzo i ragazzi cambiano nome in Eversin, poi firmano un contratto con My Kingdom Music, tramite la quale pubblicano altri due album, ricevendo ottime recensioni.
Nel frattempo lavorano a Trinity: The Annihilation, un grande passo in avanti che porta il progetto verso una maturità completa e un suono più personale.
Attualmente gli Eversin sono impegnati nella promozione del loro ep Flagellum Dei, in uscita a fine maggio.
Ascolta la puntata sul Mixcloud di Night Shift.
Playlist
01. Cool Under Heat – The Clash
02. Flagellum Dei – Eversin
03. Divine Intervention – Slayer
04. Damage Inc. – Metallica
05. Chaosborn – Eversin
06. Testament – DNR
07. Blood In Blood Out – Exodus
08. Refuse Resist – Eversin
09. Arise – Sepultura
10. Warzone – Slayer
11. Trinity – Eversin
12. Symphony Of Destruction – Megadeth
13. All Nightmare Long – Metallica
14. For the Glory of Men MMXVI – Eversin
15. Alison Hell – Annihilator
16. Wake Up Dead – Megadeth
Night Shift
In onda ogni martedì a partire dalle 22:30 sui 103.3 FM di Radio Popolare Roma e in streaming su
radiopopolareroma.it
.
Contenitore musicale notturno che punta alla messa in circolo delle sonorità meno diffuse nell'etere romano. Grande attenzione è rivolta alle band underground nostrane, che vengono invitate a raccontarsi proponendo la loro musica e quella delle loro origini.