MOE, Examination Of The Eye Of A Horse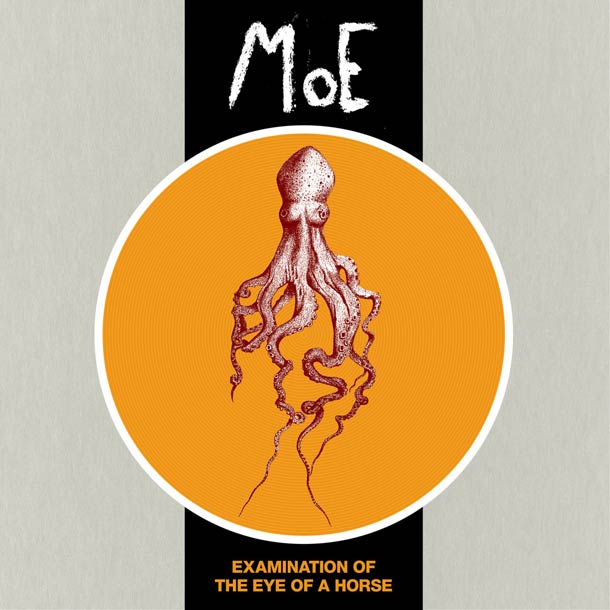 Avevamo scoperto (con notevole ritardo) i norvegesi MoE un paio di anni fa, per la precisione quando si apprestavano a portare in giro per l'Italia il loro terzo album in compagnia di Gerda e LVTHN, un primo incontro che ci aveva lasciato una piacevole sensazione di avere per le mani una realtà da non sottovalutare e la conseguente voglia di seguirne i passi successivi, naturale quindi che ci fosse parecchia curiosità per questo nuovo Examination Of The Eye Of A Horse.
Come da aspettative la band si conferma in possesso di una scrittura urticante e dal forte impatto, che attinge a piene mani dalla metodologia noise ma non disegna di ricoprirla di umori oscuri e di una spiccata attitudine hardcore, miscela che rende la sua proposta ora inquietante nel suo incedere sinuosamente contorto, ora frontale e aggressiva come nella furiosa "Paris". Rispetto al passato, appare più attenta ai particolari e alle dinamiche interne, segno che i molti concerti e la coesione hanno portato i MoE a rendere ancor più acuminato il loro songwriting, una malsana palude che, come dicevamo, si muove tra vecchia scuola noise-rock e contaminazione tipica di questo periodo storico, senza perdere per questo un briciolo di coesione e potenza.
Nonostante continuino a utilizzare strutture scarne e minimali, i tre musicisti di Oslo sono riusciti nel non facile compito di portare a un nuovo livello la loro formula, senza scordare quanto di positivo già espresso in passato. Se certe sonorità sono tornate a ruggire in questo preciso momento storico è anche merito di formazioni come i MoE e della loro capacità di renderle attuali senza snaturarle.