Let's Panic Later 79 e 80: Insane Music e ICR (Integrated Circuit Records)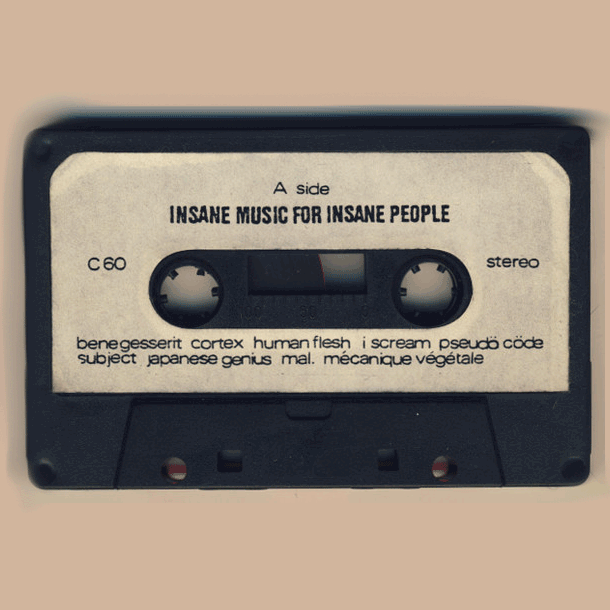 L'etichetta Insane Music è stata fondata agli inizi degli anni Ottanta in Belgio da Alain Neffe, principalmente come piattaforma per inumerosi progetti di Neffe stesso (tra cui Human Flesh, Pseudo Code, Bene Gesserit con la moglie Nadine Bal e molti altri), ma anche con l'intento di pubblicare compilation su cassetta dedicate ad artisti della scena internazionale sperimentale di quel periodo, per esempio Colin Potter, Tara Cross, Bill Pritchard, Merzbow…
LPL Part 79 è dedicata ad una selezione di tracce dalla serie di cassette "Insane Music For Insane People", pubblicata in 23 volumi tra il 1981 e il 1988.
La ICR (Integrated Circuit Records) è stata fondata a Londra nel 1980 da Colin Potter. Analogamente alla Insane Music di (sulle cui compilation Potter è apparso più volte) la ICR è stata e continua a essere sia una piattaforma per i progetti del suo fondatore che un veicolo per la promozione di artisti stilisticamente affini.
LPL 80 offre una selezione dalle compilation su cassetta pubblicate dalla ICR negli anni Ottanta.
Tracklist "Insane Music 1981-1987":
01. Cortex B – Cortex
02. The Law – Amor Fati
03. Villages – Los Paranos
04. Soon – Svatopluck
05. Tonight – Algebra Suicide
06. Sweater Sickness – Vanishing Family
07. A Chinese Smile – Bill Pritchard
08. Psychicat – Traumspiel
09. Virgin Hermits – The Horsemen
10. Tribulation – Psyclones
11. Mitch – Empty Wien
12. La Chanson de Valérie – M.A.L.
13. Distant Jungle – Synthetic Products
14. Compromises – Bourbonese Quark
15. Boiling Water – Åreknuteknyterne
16. Les Fourmis – Jean-Louis Descloux
17. Frontal Rizotto Theme – Urovisions
18. Waiting For Zorro – Pseudo Code
19. Indians – Human Flesh
20. Dub Waiters – Storm in a Nutshell
Tracklist "ICR 1980-1987":
01. Ismalia – Those Little Aliens
02. The Lope I – Colin Potter
03. Do the Dog – David Jackman
04. Black Mikado – Dave Jones
05. Sundance – Ian Boddy
06. Harmless Thought – Carl Matthews
07. Murder By Furniture – Colin Potter
08. She Moves Like a Machine – Citizens of Science
09. Humanly Possible – Stratis
10. Talkback – 96 Eyes
11. Nautilus – Peter Frohmader
12. Islands – Kevin O'Neill
13. Titanic – Asmus Tietchens
14. Skrying – Paul Nagle
Let's Panic Later
Let's Panic Later è un programma dedicato a post-punk, new wave, no wave, minimal wave, industrial e musica sperimentale degli anni 1978-1988.