HUMANITY DELETE, Never Ending Nightmares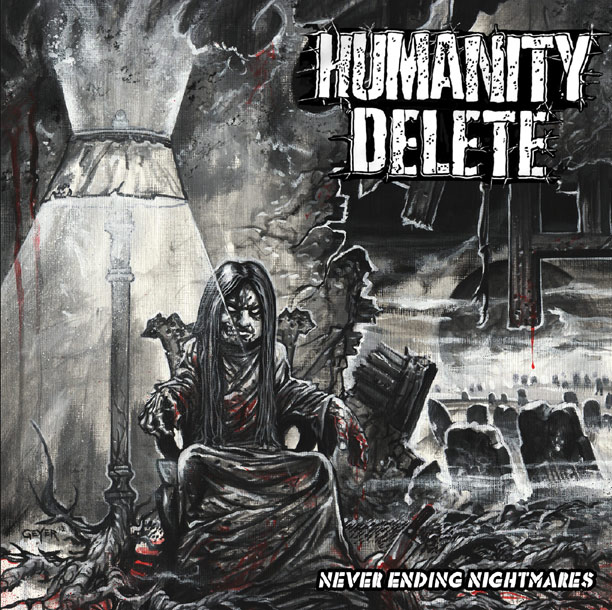 Rogga Johansson è un personaggio irrequieto della scena death metal, attivo da quasi vent'anni continua a far spuntare nuovi progetti sulle etichette più disparate. Non che abbia mai fondato gruppi epocali, ma sicuramente si dà da fare collaborando a destra e a manca con numerosi personaggi. Mi vengono in mente Bone Gnawer e The Grotesquery con Kam Lee (lo storico cantante dei Massacre), oppure i Putrevore con Dave Rotten di Avulsed/Xtreem Records (fu-Drowned Productions!). Con i Megascavenger è apparso Paul Speckmann dei Master, poi Revolting, Paganizer… Oltre alla collaborazione estemporanea l'altro elemento che ricorre è ovviamente il genere: sempre di death metal si tratta, in una salsa o nell'altra è l'ossessione di Rogga, lo possiamo dare per assodato. Gli Humanity Delete non fanno eccezione, one-man band che, dissotterrata dopo vari di anni di stand by, emerge con questo disco che suona estremamente svedese, seppur in chiave moderna come produzione. Si tratta di puro death metal, nessun innesto sperimentale, conservatore al massimo, che deve alla sua madre patria, la Svezia per l'appunto, anche dal punto di vista compositivo. L'attualità dei suoni (la batteria è programmata, tra l'altro) forse precluderà agli Humanity Delete una parte dei fan più devoti al profondo underground, ma si parla comunque di un disco molto solido nonostante non eccede in brillantezza. E ora non fatemi tirare fuori la solita pletora di nomi di gruppi svedesi, che tanto avete capito di che si tratta. Particolarità appetibile: la presenza di Lasse Pyykko degli Hooded Menace (ed ex-Phlegethon) come ospite alla chitarra solista. Voto: non un disco memorabile, ma troverà i suoi estimatori.
Tracklist
01. Never Ending Nightmares
02. The Eight Ice Narakas
03. Black Oil Defiler (Orang Minyak)
04. Necromantic Sorcery
05. The Jenglot
06. Dismal Corridors
07. Resurrection Rites
08. Retribution of the Polong
09. Pontianak Part I
10. The Eight Fire Narakas
11. Frozen Apparition
12. Pontianak Part II.