HARSHCORE & DER EINZIGE, Live Bujun Dokument, Graz, June 11th 2009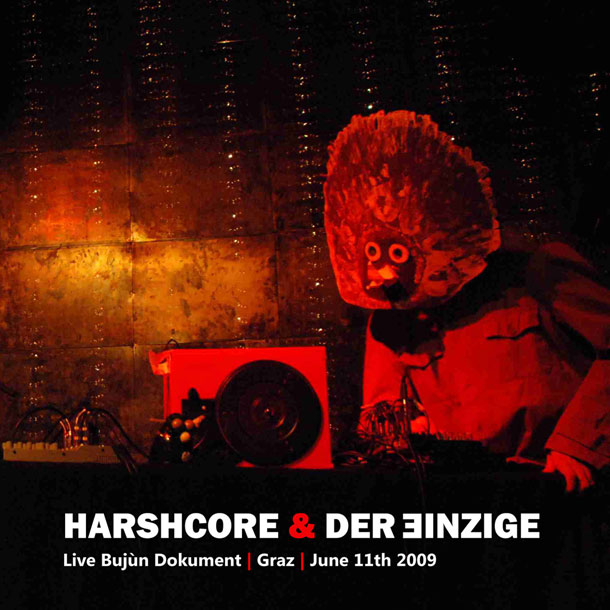 Sodalizio esplosivo questo tra gli Harshcore (Luca Sigurtà e Tommaso Clerico) e Der Einzige (Matteo Uggeri), uscito per la svizzera Old Bicycle Records (ma c'è lo zampino della Moriremo Tutti Records dello stesso Uggeri). Il lavoro (una cassetta in edizione limitata a cento copie per la serie "Tape Crash") è testimonianza sonora di un viaggio intrapreso nel 2009 in Austria, quindi va a ripescare nel passato. Cosa c'è dentro? È presto detto: una massa informe e spesso violenta di rumore, ovvio, col fantasma dei TG che condiziona "Sorry For All The Noise", pezzo che non fa prigionieri e che ammazzerebbe chiunque (fate attenzione…). Non mancano i momenti che aggirano l'ambient (termine, quest'ultimo, da prendere con le molle) con sicumera e che, tra una scheggia e l'altra di rumore (ancora), comunque si fanno notare. In pratica: come rendere evocativa una formula che tante volte è solo mattone/muro di suono "in yer face". Una proposta, la loro, che sa essere persino "gradevole" e spiazzante quando vuole ("Do It Dodo", che proviene dal vecchio lavoro The Bujùn Freak Show, è come i Residents seviziati dagli Smegma). "Divar", invece, è deliquio harsh che neanche un muezzin sotto speed e coi nervi a pezzi potrebbe reggere (ancora non ci siamo capiti? Questa è roba che fa male…).
In conclusione mi viene da dire che quando in mezzo c'è uno come Sigurtà, per esempio, non esistono mezze misure, prendere o lasciare. D'altronde io – che l'ho incrociato dal vivo lo scorso anno di supporto a Jason Lescalleet – ho potuto massaggiare con vigore le mie già martoriate orecchie. Tenete d'occhio loro (se avranno il coraggio di continuare su questa strada) e l'etichetta.