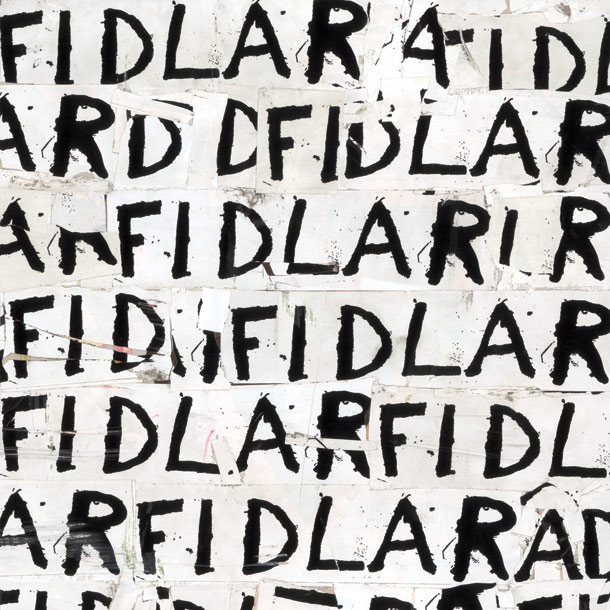 Fancazzisti a tempo indeterminato.
Istintivi come una bestia arrapata.
Sporchi come una diciottenne di buona famiglia che guadagna più del papi caricando su Youporn video amatoriali interracial girati con la telecamera del fratello.
Fidlar.
Primo disco.
Schizzato garage punk lo-fi dritto dritto da Los Angeles, perfetta colonna sonora per qualsiasi cazzata kamikaze stile Jackass vi venisse in mente, tipo schiantarvi con lo skate contro la saracinesca del garage per sentire che rumore fa o testare sul vostro cervello e quello dei vostri soci ogni possibile abuso di psicofarmaci, almeno con quelli che vi passa sottobanco il cugino farmacista.
Brandon, Max, Zac ed Elvis iniziano a suonare insieme nel 2009 e si aprono presto un varco nell'underground, che permette loro di accompagnare in tour Jeff The Brotherhood, The Hives e Delta Spirit. Qualcuno dice che il loro sound unisca i White Stripes ai Pixies, ma nessuno accenna alla radici del punk più istintivo e viscerale, quello storico e autentico: Dead Kennedys, The Saints e ovviamente Stooges.
Ascoltate "Cheap Beer", ascoltate "Stoked and Broke", ascoltate "White On White" per riflettere su come questa generazione schizzata di punk skater ricodifichi gli insegnamenti dei padri fondatori sputando brani anfetaminici raramente più lunghi di due minuti, costruiti su quattro accordi e melodie grezze stuprate da distorsioni fuzz al limite dell'istinto omicida, condite da testi tipo:
I just wanna get really high,

smoke weed until I die,

I don't ever wanna get a job,

If I fucked up today, hey, nothing's wrong…
Che cazzo volete di più? A me basta così.
Sono sempre stato una persona semplice.
E particolarmente incazzata.
Tracklist
01. Cheap Beer
02. Stoked And Broke
03. White On White
04. No Waves
05. Whore
06. Max Can't Surg
07. Blackout Stout
08. Wake Bake Skate
09. Gimmie Something
10. 5 To 9
11. LDA
12. Paycheck
13. Wait Fot The Man
14. Cocaine