DEMONCY, Within The Sylvan Realms Of Frost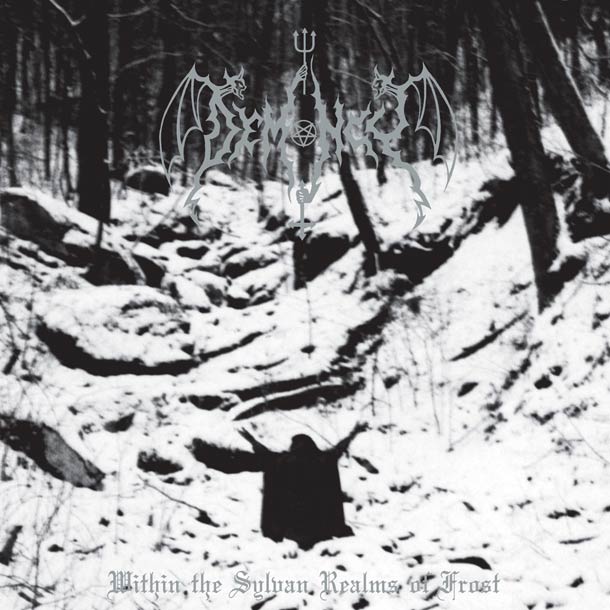 Nuclear War Now! Productions sigilla il patto di sangue con gli americani Demoncy, riportando alla luce il loro secondo album, Within The Sylvan Realms Of Frost del 2007. L'etichetta californiana, infatti, aveva già rianimato lavori come Joined In Darkness e Faustian Dawn. Platter come questo rendono finalmente giustizia al black metal americano, troppo spesso snobbato in favore di quello europeo, nordico soprattutto.
I Demoncy, in questo caso forti di una line up rinnovata (ma con il fondatore Ixthra sempre alla redini, come chitarrista e tastierista) dimostrano ancora una volta il loro innegabile valore: black metal figlio delle terre del Nord, in movimento tra ghiacciai perenni, vento e oscurità. Il sound che i Demoncy tagliano per questi sei pezzi è crudo, disagiato e privo di speranza. La malvagità è palpabile, acuita da un cantato straziato e straziante che si sposa alla perfezione con riff gelidi e maledetti. Il drumming è puro blast beat assassino e martellante, interrotto ogni tanto da qualche break che acuisce ancora di più il senso di lucida follia che pervade questo disco. Le tastiere sono usate alla perfezione: sottolineano I passaggi chiave, creando un'atmosfera lugubre e opprimente. La registrazione è affilata, in grado di far venire fuori tutta la brutalità del gruppo statunitense.
Una piccola grande gemma assolutamente da riscoprire.