Chi ci sarà all'Obscene Extreme 2014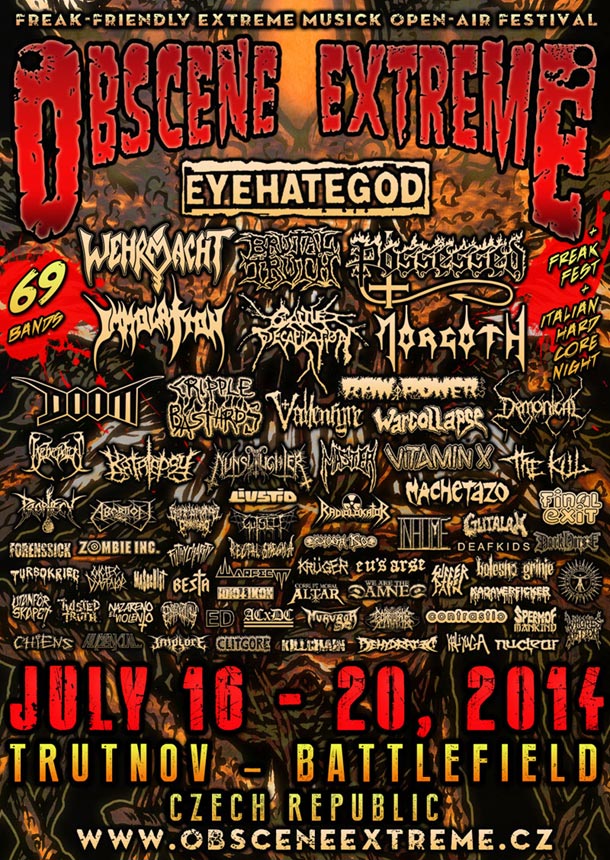 L'Obscene Extreme è da diversi anni uno degli eventi più importanti per la musica estrema in Europa, nonché il festival di riferimento per la scena grind internazionale (gli americani, nonostante abbiano il Maryland Deathfest, ce lo invidiano). Anche se questa volta il bill è più orientato verso il death metal, nomi come Possessed, Eyehategod, Immolation, Nunslaughter, Machetazo e Wehrmacht (con parte del set incentrato sul materiale dei Cryptic Slaughter) non possono che mettere d'accordo tutti. Come vuole la tradizione, la location è il Na Bojisti di Trutnov, in Repubblica Ceca. Quest'anno si svolge dal 16 al 19 luglio: la prima serata sarà incentrata sull'hardcore italiano, con gruppi come ED, Eu's Arse e Raw Power.
Qui il bill completo (il running order uscirà qualche settimana prima del festival):
ACxDC
Beheaded
Besta
Bolesno Grinje
Brutal Truth
Cattle Decapitation
Chiens
Clitgore
Contrastic
Cripple Bastards
Dark Horse
Deaf Kids
Dehydratated
Demonical
Doom
Ed
Epicardiectomy
EU's Arse
Eyehategod
Filthy Charity
Final Exit
Forenssick
Gutalax
Gutslit
Human Cull
Idiot Ikon
Immolation
Implore
Inhume
Kadaverificker
Kaliyuga
Katalepsy
Killchain
Krüger
Livstid
Machetazo
Masochist
Master
Morgoth
Mururoa
Nazareno El Violento
Nuclear
Nunslaughter
Ojciec Dyktator
Possessed
Prophecy
Radiolokator
Raw Power
Rectal Smegma
Škoda 120
Sperm Of Mankind
Suffer The Pain
The Kill
Türbokrieg
Twisted Truth
Ultimo Mondo Cannibale
Utanförskapet
Vallenfyre
Vitamin X
Warcollapse
Warfect
We Are The Damned
Wehrmacht
Whoresnation
Zombie Inc.
Il prezzo del biglietto è 56 euro, ma può essere acquistato a 49 in prevendita scontato per l'Italia presso la FOAD Records a questo link.
Maggiori informazioni su obsceneextreme.cz