ALBERTO RIGONI, Three Wise Monkeys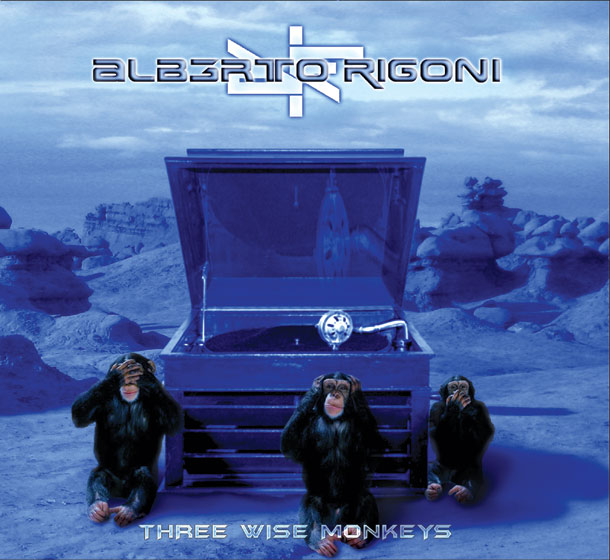 All'ormai discretamente corposa e variegata discografia di Alberto Rigoni, che spazia dal prog metal dei Twinspirits al pop dei Lady And The Bass in coppia con Irene Ermolli, si aggiunge il terzo lavoro solista, forse il migliore fino a oggi.
Ispirato alla leggenda giapponese delle tre scimmiette, Three Wise Monkeys mette in luce, oltre alle già ben note doti tecniche, anche le ottime qualità compositive del bassista trevigiano. Le dieci tracce che danno vita al disco – equamente divise tra strumentali e cantate – esplorano le principali passioni musicali di Alberto, avvalendosi peraltro dei preziosi contributi di numerosi ospiti di nome e sostanza. Così, dall'intro orientaleggiante di "Toshogu Shrine" alla conclusiva hard ballad di "Believe", il cd si snoda senza veri punti deboli per quarantasei minuti che toccano la fusion in "Kikazaru", il metal progressivo in "Mizaru" (con la presenza di un mostro sacro come Kevin Moore) o in "Blackened Tornado" e "Free Falling" (ottime le performance vocali di Jonas Erixon), ma anche l'hard rock piacevolmente easy della title-track e il prog in stile Trey Gunn di "Iwazaru".
Come spesso avviene, quello che per un ascoltatore può rappresentare un pregio, per un altro può essere l'unico vero difetto del disco: l'inevitabile frammentarietà derivante da cambi di stile così frequenti, che rendono difficile legare tra loro tanti brani, anche se tutti riusciti.
Si tratta comunque senz'altro di un disco di ottimo livello, che conferma Alberto Rigoni come musicista completo oltre che come bassista d'élite.