ASPEC(T) / DAVE PHILLIPS, Medusa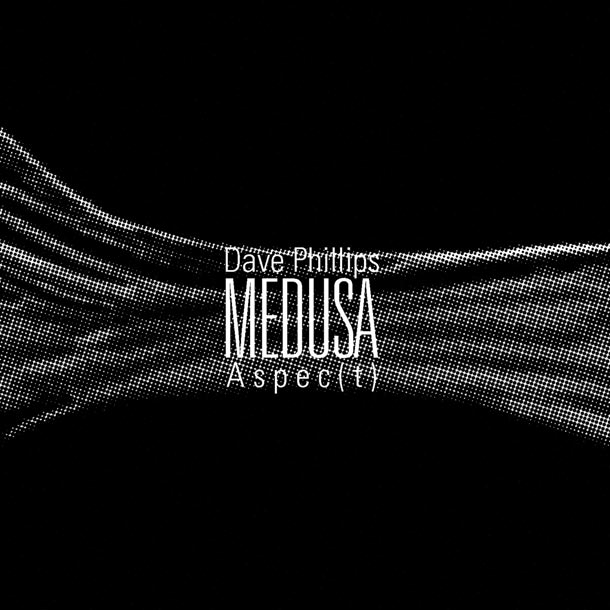 The jellyfish eat the eggs and larvae of the fish, so the switch is probably irreversible. We have entered, the paper tells us, 'the era of jellyfish ascendancy'. It's a good symbol. The jellyfish represents the collapse of the ecosystem and the spinelessness of the people charged with protecting it.
George Monbiot
Esordisco con le parole sciaguratamente profetiche (mi piacerebbe pensarla in altre maniere) dell'ambientalista britannico Monbiot, perché il suo articolo "Feeding Frenzy" ha liberamente ispirato questo disco e perché riassumono – vale sia per lo scritto sia per l'album – il valore simbolico di questa strana, quasi aliena, creatura.
È comunque necessario qualche piccolo preambolo su questo lavoro a sei mani. Sappiamo delle implicazioni che lo svizzero Phillips ama dare ai suoi lavori, quei suoi tentativi, quasi, di riempire col rumore il vuoto o la spaccatura lasciati tra natura e "civiltà" dall'ignavia degli uomini. Proprio nel periodo in cui Medusa iniziava a prendere vita per mano dei due Aspec(t) Mario Gabola (A Spirale) e Mimmo Sec_ Napolitano (2011, quindi), Phillips concludeva la gestazione di gran parte dei brani che sarebbero andati a comporre Homo Animalis. Con Insect (2003) già alle spalle e sempre con uno svizzero (Norbert Möslang, però) a raccoglierne successivamente una sorta d'eredità spirituale con la soundtrack del film "The Sound Of Insects", possiamo parlare di Medusa come il prosieguo ideale più limpido (a dispetto degli oceani oscuri che dovremmo attraversare) della discografia dell'uomo-Schimpfluch.
Sentendo Medusa, capiterà spesso – a intervalli – d'imbattersi in emersioni sonore sparute (come di bolle d'aria) o in vibrazioni a scandaglio che raschiano il fondale marino, quasi a focalizzare l'attenzione su un aspetto chiaro e preciso sin da "Non Central Nervous System Non Cephalized Body": facilitare, in un certo senso, l'ascolto, confondendo però allo stesso tempo la comprensione. Echi pacificatori ("If The World Weren't Such A Beautiful Place", "Hammerhead") strozzati – o forse asfissiati – da un'urticaria viscida ("Ripped To Shreds") e appiccicosa ("Trash Vortex"), tra detriti elettroacustici ("Wobbling On The Edge") mescolati da reti a strascico in masse di liquami e lische ("But It Tastes Good"), senza dimenticare tutta la sana dose di feedback, come se ci fosse una certa nostalgia per un periodo nel quale la no-input faceva scuola in lungo e in largo e di quando un mixer – cavi in abbondanza e gain al massimo – era tutto ciò di cui si aveva bisogno.
È da precisare che tutta quest'area di musicisti partenopei da anni instaura collaborazioni del genere in questi ambiti (Andy Guhl su tutti), ma è significativo avere, finalmente, un lascito tangibile ad attestare ciò, anche per merito della greca Noise-Below, che nel frattempo manda fuori pure la nuova cassetta di Sec_ e Olivier Di Placido.
Tracklist
01. Non-Central Nervous System, Non-Cephalized Body
02. Odi Profanum Vulgus Et Arceo
03. The Era Of Jellyfish Ascendancy
04. Drift Net Death
05. Ayumodoki
06. The Fury Of My Friend
07. A Chironex Fleckeri In My Bath
08. Nothing Is Sacred (As Long As It Is Underwater)
09. If The World Weren't Such A Beautiful Place, We Might All Turn Into Cynics
10. Farang Khi Nok
11. Ripped To Shreds (Sea Terrorizer)
12. Scientific Complexity And Symbolism Of The Catastrophe For A World Of Cops
13. Trophic Dead-End
14. Wobbling On The Edge
15. Hammerhead
16. "But It Tastes Good!" (Yes, People Are That Sad)
17. Finned Alive
18. Bottled Life
19. Squalus Acanthias
20. Smalltooth Sawfish
21. Rhincodon Typus
22. Cascade of Disasters / Nachhaltig Schmerzen
23. Trash Vortex
Attenzione, gente: gli Aspec(t) sono anche in tour.
27.09.2014 – Aspec(t) @ Quattro Quarti, Bologna IT
28.09.2014 – Aspec(t) ft 70fps @ Analogica festival, Ora (Bolzano) IT
29.09.2014 – Aspec(t) ft 70fps @ CPA, Firenze IT
30.09.2014 – Aspec(t) ft 70fps @ Muradisuono, Roma IT
01.10.2014 – Aspec(t) ft 70fps @ Circolo Hemingway, Latina IT