ASTMA & A SPIRALE, The Cost Of Service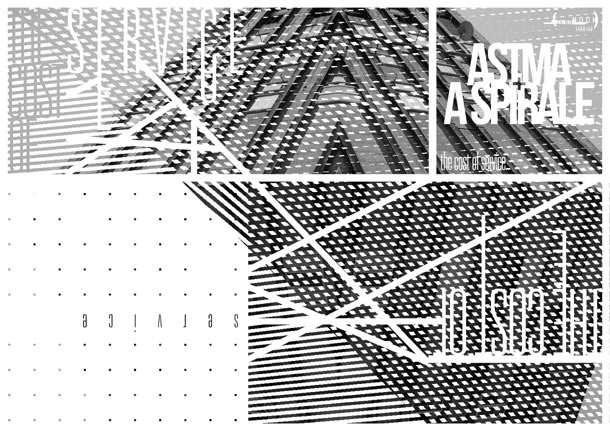 Nuova collaborazione italo-russa, che segue al disco dello scorso anno Case Matte/коробочка для пилюль. Gli A Spirale (Maurizio Argenziano, Mario Gabola) e gli ASTMA (Alexei Borisov, Olga Nosova) escono con un lavoro registrato a cavallo tra Napoli e Mosca e fatto passare dalla Viande per l'underground della "Napoli improvvisa!" (master di Mimmo Napolitano), che così si prende la fetta spirituale della release prima di spartirla con Zeromoon.
Il risultato, tra improvvisazioni a tutto campo degli A Spirale e fusioni non-stop di noise/elettronica/psichedelia degli ASTMA, sono nove portate con dentro le più disparate influenze, in un tripudio di feedback ed effettistica varia unita a chitarre, voci, percussioni e rumori che non s'arrendono fino all'ultimo secondo di elettro-acustica delirante di "Karasik". Rimandi inoltre a qualche MEV in "Insurance" oppure – in "Zadniza" e "Simbologia della Rivolta" – alla scuola avant-freak zorniana dei primissimi Ground Zero, quest'ultima fusa con un punk-noise meltbananesco in "Mexican Asada". "Surplus" e "Rohkost", invece, sembrano un ectoplasma psichedelico uscito dall'incubo letargico di certi Cabaret Voltaire o Clock DVA. Non è un caso poi se il miscuglio brado di interferenze e comunicazioni interrotte di "Bori No Asp" sembri uscito dai Voice Crack, perché gli A Spirale con Andy Guhl di recente ci hanno pure suonato (beati loro).
Succulento.